ITS Prof. Carlos Daganzo received an honorary doctorate during an elaborate, traditional ceremony at the Polytechnic University of Catalonia, also called UPC-Barcelona Tech, in his native Barcelona on March 28, 2012.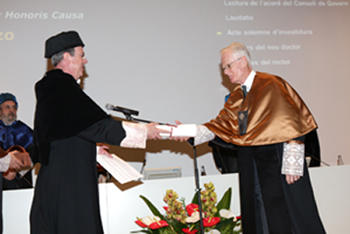 The honorary degree was conferred upon Daganzo for his wide-ranging contributions to the field of transportation science in a two-hour ceremony led by Antoni Giró Roca, chancellor of the university, the largest engineering university in Catalonia, Spain. It is the first time UPC has bestowed an honorary doctorate in the area of transportation.
Daganzo, the Robert Horonjeff Professor of Civil and Environmental Engineering, was also recognized for his mentorship of three students from UPC, Francesc Robusté, Frederic Sabrià, and Alejandro Lago, who received degrees at UC Berkeley and then went on to become faculty members at UPC and at the Instituto de Estudios Superiores de la Empressa (IESE) business school in Barcelona.
Daganzo, who is the author of five books and more than 150 scientific papers, was also responsible for research that led to development of a plan for a bus rapid transit network in Barcelona.
The ceremony, which was punctuated with choral music and included a talk by Daganzo was attended by family, friends, and former students, Sabrià of IESE, Robusté of UPC, Nik Geroliminis of Ecole Polytechnique Fédérale de Lausanne (EPFL),  Switzerland, and Andy Nash, managing director of Vienna Transport Strategies, Austria.