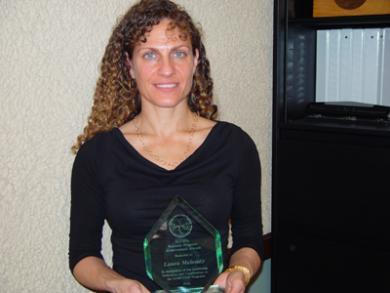 Laura Melendy, Assistant Director of ITS, received an award for her leadership and effectiveness in promoting the goals of the national Local and Tribal Technical Assistance Programs at the recent annual meeting of the Transportation Research Board.
The organization, which represents 58 technical assistance programs across the country and in Puerto Rico, provides a variety of transportation expertise to communities and transportation agencies.
Melendy, who is also Director of the 
Technology Transfer Program
, formerly an LTAP center and a division of ITS, was given the award on January 22 at the general membership meeting of the National LTAP/TTAP Association held in conjunction with the 91
st
 Annual Meeting of the Transportation Research Board in Washington DC.
The award recognizes the "significance and robustness of the impact of the nominee's accomplishments."
The Technology Transfer Program administered the California LTAP program from inception in 1983 through June 2011. The California LTAP program is now administered by the California Department of Transportation, Division of Local Assistance. 
"Our LTAP center helped transportation practitioners in the field stay current on best practices—which is absolutely vital in this time of aging infrastructure and shrinking budgets," explains Melendy. "Through training and technical assistance, we gave them the skills and knowledge they needed to design, build, and maintain our infrastructure over a longer lifespan, manage our resources more effectively, and operate our transportation systems and work zones more safely, all while reducing congestion and delay to the public."
The Technology Transfer Program provides training, workshops, conferences, technical assistance and information in an area of transportation-related areas, such as planning and policy, safety, and traffic engineering. It serves some 25,000 public and private transportation agency personnel working for nearly 500 cities in California, 58 counties and 50 transportation agencies, as well as the California Department of Transportation.