Two transportation graduate students, Maggie Witt (left) and Yi Liu, have been awarded scholarships through the San Francisco chapter of the Women's Transportation Seminar (
WTS
) Foundation.
Liu won the WTS Dana Hook Leadership Legacy Scholarship, which takes its name from a former chair of the WTS International Board of Directors. Witt received the Helene M. Overly Memorial Scholarship, which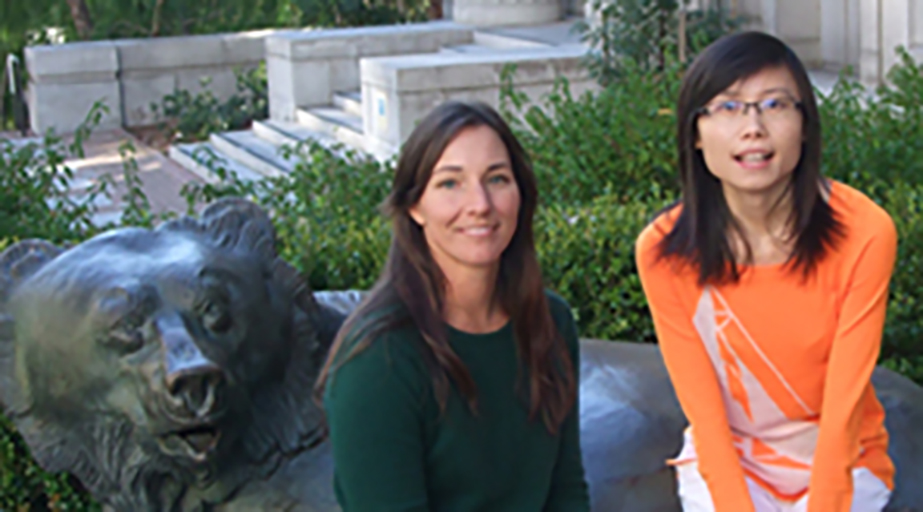 was established in memory of the first Executive Secretary of WTS.
The awards will be presented on May 15, 2014 at the national meeting of the organization, and both women have been given the opportunity to vie for the organization's international awards.
Witt is a graduate student researcher with the Transportation Sustainability Research Center (
TSRC
). She has assisted Dr. Tim Lipman with a variety of projects including researching a California "feebates" (clean vehicle incentive) program, hydrogen fuel vehicle policies and lessons learned, electric vehicle-related policies in California and expectations for vehicle adoption.
Prior to joining TSRC, Witt worked at the U.S. Environmental Protection Agency for four years, where she focused on transportation policy and planning, hazardous waste cleanup, and other key environmental issues in the Pacific Southwest. She holds a B.A. in Environmental Studies, Economics, and Politics from Claremont McKenna College and an M.S. in Energy and Resources from UC Berkeley.
Witt's current research focuses on the implementation of California's land use and transportation planning law, SB 375, and its potential for reducing greenhouse gases by facilitating less driving (fewer vehicle miles traveled) in California.
Liu received her bachelor's degree from Tsinghua University in China and a master's degree from Hong Kong University of Science and Technology. She is currently completing her doctorate in the Department of Civil and Environmental Engineering where she has focused on air transportation.
She has worked closely with her advisor, Professor Mark Hansen, on a variety of research projects, which have included assessing the predictability impact of a new automation tool on airport surface operations as well as designing a new software tool for flight operators to input their preferences in air traffic management decision-making.
She is treasurer of the UC Berkeley Transportation Students Organizing Committee and an organizer of the Institute of Transportation Studies weekly seminar series. She served as a co-organizer of the Fifth International Conference on Research in Air Transportation and was session chair of the Aviation Application Section of the Informs Conference earlier this year.