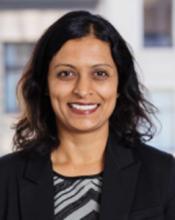 San Francisco Bay Area Planning and Urban Research Association (SPUR)'s Ratna Amin presented Bay Area Transportation 2050: Systems change in action Oct. 6, 2017.
Abstract
Regional transportation planning is an art and not a science. SPUR, the Bay Area's leading urban planning organization, has embarked on a Regional Strategy to answer the big planning questions facing the Bay Area through 2050. While transportation models and heuristics are commonly used to estimate future mobility needs, urban systems in the United States are actually shaped by a complex interaction of urban planning, public policy, and politics -- which are overlaid on history and our own narratives. SPUR's future transportation research process will test the limits of what can be known through typical planning tools and what must be determined through strategic visioning and social movements. This talk will discuss SPUR's ambitious Regional Strategy project, theory of change, and transportation research and visioning process.
Friday, October 6, 2017 - 4:00pm
290 Hearst Memorial Mining Building
Presenter
Ratna Amin is Transportation Policy Director at SPUR, the Bay Area's leading urban policy organization. She leads SPUR's work to create a high-quality transportation system in San Francisco, Oakland, San Jose and the Bay Area region. Her areas of focus include public transit, land use and transportation integration and systems change. In 2014, Ratna published SPUR's first transportation policy report about Silicon Valley, Freedom to Move. More recently, she published Seamless Transit, an agenda to address the Bay Area's transit fragmentation problem and The Caltrain Corridor Vision Plan. She was named to Mass Transit magazine's "Top 40 Under 40" in 2015.
Ratna's previous roles include consultant to numerous community-based organizations, chief of staff to the Oakland City Council president, senior associate at Environmental Science Associates and analyst at Cambridge Systematics. She has master's degrees in city and regional planning and transportation engineering from the University of California, Berkeley and a bachelor's degree in computer science and engineering from the University of Pennsylvania. She is an alumnus of the San Francisco Coro Fellows Program in Public Affairs and of Teach for America.