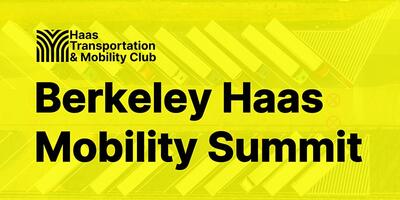 The Berkeley Haas Mobility Summit, Cutting through the hype of today's mobility industry, will feature several ITS Berkeley faculty, researchers and alumni this year. The summit will be held Friday, Nov. 19, 2021 on campus at the Spieker Forum, Haas School of Business.
 The Berkeley Haas Mobility Summit, presented by the Transportation and Mobility Club at the UC Berkeley, Haas School of Business,  is UC Berkeley's conference dedicated to bringing together current and future mobility leaders and will feature industry leaders, UC Berkeley faculty, as well as students from a range of disciplines, such as engineering, urban design, law, and business.
This year's summit will center on the theme of "cutting through the hype" of today's private and venture-backed mobility industry, including panels on the future of ridehailing, vehicle electrification, autonomous vehicles, and urban air mobility.  The 2021 summit theme recognizes the need for more dialogue around how mobility companies must navigate issues of sustainability and equity, in addition to the challenges of adoption and commercialization of these technologies.
Program:
12:00 - 1:00 Welcome & Registration
1:00 - 1:15 Opening Remarks
1:15 - 2:00 Keynote Address with Bert Kauffman
2:00 - 2:45 Panel | Who has gained in the ride-hailing revolution?
3:00 - 3:45 Panel | Electric vehicles are here, but how quickly can they scale?
3:45 - 4:30
Panel 1 | Can autonomous trucking solve our supply chain woes?
Panel 2 | Can urban air mobility finally save us from traffic?
4:30 - 6:30 Networking Happy Hour
ITS Berkeley Moderators: Susan Shaheen, Civil and Environmental Engineering (CEE) Professor, Scott Moura, CEE Professor, and Benjamin McKeever, AV Program Manager PATH Program; and Haas Berkeley Moderator Molly Turner, Lecturer at Haas School of Business.
Panelists include: Ross Ahya, Director, Business Development at Aurora, Shana Patadia, Director of Business Development at ChargePoint, Matt Hochman, Business Design at D-Ford, Nicholas Matcheck, Partnerships at Hyundai Urban Air Mobility, M. Imran Ali, Principal, Partner Success at Via, Pavan Yedavalli (recent alum) Product Intelligence at Wisk, Matt Gayhack, Strategy & Business Development at Embark Trucks, JP Preyer, Strategy & Business Operations at Embark Trucks, Andrew Cornelia, Head of Corporate Strategy at Volta Charging, Jeff Sharp, Government Operations at Joby Aviation, and Misha Cornes, UX Research Manager at Lyft.



Tickets: https://www.eventbrite.com/e/berkeley-haas-mobility-summit-tickets-19554...