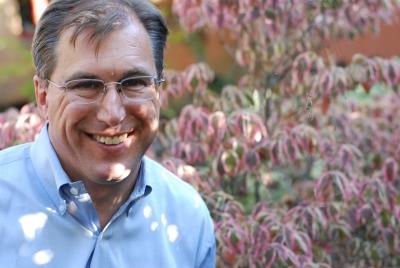 This article originally appeared at the College of Environmental Design website:
The College of Environmental Design (CED) is pleased to announce that Joe Krovoza will be joining us as Assistant Dean of Development and Alumni Relations beginning July 1, 2020. 
Krovoza currently serves as Executive Director of Development for the UCSF Helen Diller Family Comprehensive Cancer Center. At UCSF, Joe leads principal and major gifts fundraising for the cancer center and guides faculty collaborations with development, strategic planning, events and communications for donor relations. His 30+ years of development has included roles at Caltech, Stanford and UC Davis before UCSF. 
Krovoza will bring life-long passions for community planning, sustainability and public education to CED. From 2011-14, Joe served as the mayor of Davis, CA where he helped guide major environmental efforts, including the city's first Climate Action Plan, a wholly new General Plan Transportation Element, new clean water and wastewater systems, and Davis's largest ever open space acquisition. Simultaneously, he led the transportation and energy fundraising at UC Davis. In this dual capacity, he forged many environmental collaborations between the city and UC Davis. 
During his 20 years at UC Davis, Joe built the development programs, managed multiple advisory boards, and partnered with faculty to expand the campus's Institute of Transportation Studies, and helped to establish its Energy and Efficiency Institute and Policy Institute for Energy, Environment, and the economy. In addition, Krovoza worked across UC campuses, including with UC Berkeley to secure increased state funding for the UC-wide Institute of Transportation Studies. At UCSF, along with his major gifts fundraising, Krovoza created a new Cancer Leadership Council, expanded unrestricted giving, and helped direct the cancer components of UCSF's successful $5 billion comprehensive campaign.  
Krovoza is thrilled to have the opportunity to increase the impact of CED's mission in partnership with college faculty and Dean Chakrabarti. Themes emerging from Dean Chakrabarti's vision, outlined in the recently launched Light the Way campaign at UC Berkeley, target fundraising priorities that tackle climate change, social inequity, and technological dislocations. Importantly, the college is focused on expanding access to CED and its resources — providing more student funding and technology support, expanding diversity and equity efforts, and supporting funding for research, design, and faculty development. Given the immediate crisis we face, in addition to recent ones, the University's strategic plan and its multi-disciplinary initiatives—the so-called "grand societal challenges"—provide CED with a central role to help lead the way in research and solution-based thinking around the environment, health and democracy. 
Incoming Dean Chakrabarti said, "Joe's fundraising track record, acumen designing development strategies for academic priorities, and collaborative style make him a great match for CED. His strong environmental values and experience in planning prepare him perfectly to articulate the College's next wave of aspirations."
Krovoza has a bachelor's degree from Occidental College and a JD from UC Davis School of Law. He enjoys hiking, running, canning and spending time with his wife Janet and two adult daughters. 
Please help CED welcome Joe Krovoza as our new assistant dean of development and alumni relations.