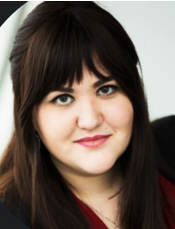 World Economic Forum's Automotive and Autonomous Mobility Project Lead Mouchka Heller talked about Designing the Inclusivity Quotient: Making core services and economic opportunities more accessible to underserved populations through transportation technologies and policies during the Applications of Data Science and AI to Equity, Race, and Inclusion in Mobility and Transportation Seminar Series on April 2, 2021. 
Co-sponsored by The Center for Information Technology Research in the Interest of Society and the Banatao Institute and the College of Engineering

Abstract: The COVID pandemic acted as a powerful stress test and highlighted a few of our greatest systemic gaps, one of which is our dependence on transport to access core services and economic opportunity, along with the inherent inequity of existing transportation systems. In areas facing mobility poverty, generally inhabited by underserved communities, individuals often do not have adequate access to healthcare, education, recreational activities, food, culture or jobs. Among other metrics, this affects life expectancy, infant mortality, GDP, crime, and economic resilience Equitable economic growth can be fostered, systemized and scaled through mobility. Individuals who are unbanked, disconnected, lower-waged are often left out of digitally-driven innovation, kept out of reach of newly created jobs, quality healthcare and education. There is a direct, positive correlation between economic prosperity and transportation, if we can measure it. The World Economic Forum's Inclusivity Quotient initiative aims to close the mobility data gap, bridge the understanding between people's lived experiences and data collected, and work to ensure everyone is included in mobility, be it public transit, micro mobility, ride hailing, or eventually robo-taxis. We will share how we are approaching data collection - quantitative and qualitative - modeling tools, partnering and community organizing to drive impact on a global scale.

Bio: As a leader in digital technologies, Mouchka has been at the forefront of the Fourth Industrial Revolution and has devoted her career in catalyzing and leveraging technology for the improvement of the state of the world. At the World Economic Forum, Mouchka oversees a portfolio of projects aimed to foster equitable economies through transportation technology and policy. The works tackles the data gap, seeks to include the underbanked and disconnected, and provides pathways for fairer access to core services and economic opportunities for underserved populations like women, older users, and people of color. Prior to joining the World Economic Forum, Mouchka was trade commissioner of infrastructure at the Consulate General of Canada in New York. Under her leadership, the US/Canada infrastructure trade relationship grew by 20%. She helped structure and launch a Smart Cities strategy, support over 250 infrastructure companies with their market entry strategies into the US North East and write Artificial Intelligence trade policy. Prior to being a trade commissioner, Mouchka was The Economist's inaugural data protection officer, where she ensured the balance between data monetization and privacy throughout the digitization of a 170 years old company. Mouchka is an adjunct professor of business negotiations at Yeshiva University. She volunteers to provide mental health support to mothers and helps lead a financial inclusion committee in Fairfield County, CT. In her free time, she tries the most ridiculous things to get her kids to laugh, cooks, writes, and plans trips for a post-covid world. Mouchka holds a Bachelor of Arts in Political Science from Yeshiva University, a Masters of Science from Georgetown University's School of Foreign Service, studied data privacy law through the International Association of Privacy Professionals, and is currently completing an executive Masters of Science in Global Leadership taught by a consortium including Oxford, Harvard and the London Business School.