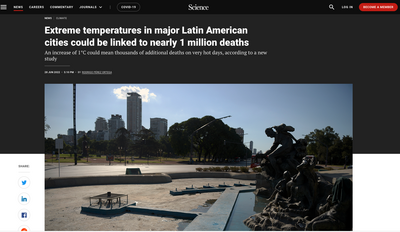 A recent study published in Nature Medicine, City-level impact of extreme temperatures and mortality in Latin America, highlights the effects of extreme temperatures on mortality for urban populations in Latin America.
Researchers from the Salud Urbana en América Latina (SALURBAL) project, including ITS Director and Department of City and Regional Planning Professor Daniel Rodgriguez, Associate Professor of Landscape Architecture & Environmental Planning Iryna Dronova, and Institute of Urban and Regional Development Postdoctoral Researchers Yang Ju and Maryia Bakhtsiyarava, and analyzed the relationship between hot and cold days and mortality in 326 cities across nine countries in Latin America and found that nearly 6% of all deaths can be linked to temperature extremes.
Key findings include:
• On very hot days, a one-degree Celsius increase in temperature will mean a 5.7% increase in deaths.
• Older adults are especially vulnerable to extreme temperatures.
• Extreme temperatures have a particularly large impact on deaths related from cardiovascular and respiratory disease.
• Over 10% of deaths from respiratory infections can be attributed to extreme cold.
"Our findings underscore the need for cities to prepare now for the increasingly frequent and severe extreme temperatures we expect to see over the coming decades. We must act to identify vulnerable populations, adapt critical infrastructure, and improve emergency response measures
that will save lives as the climate changes," says Dr. Josiah Kephart of the Drexel Urban Health Collaborative, lead author of the study.
These findings are in line with evidence that supports the need for drastic mitigation of greenhouse gas emissions to prevent the most extreme effects of climate change and safeguard human health.
"Latin America has a very large urban population at risk of heat exposure, yet until now, few studies have documented the linkages between extreme temperatures and health in cities across the region. Greater exposure to heat is only one of the many adverse impacts of climate change on health. Our findings add to the evidence showing that urgent action to address climate change  is needed," says Dr. Ana Diez Roux of the Drexel University Dornsife School of Public Health and Principal Investigator of the SALURBAL project.
Moreover, adds Dr. Daniel A. Rodríguez, Professor and Principal Investigator of the UC Berkeley team that participated in the project, "demographic trends in Latin America – including an aging and increasingly urban population – make understanding the public health risks posed by climate change in the region all the more critical. We need adaptation strategies that are tailored to the Latin American context."
Urban Health in Latin America (SALURBAL) is a research project that aims to study how urban policies and the environment affect the health of residents of Latin American cities. The results of this project will serve as a reference to inform future policies and interventions to make cities healthier, more equitable, and sustainable throughout the world. SALURBAL is funded by the Wellcome Trust.
Nature Medicine is a transformative journal, supporting publication via immediate gold Open Access. The journal publishes research that addresses the needs and goals of contemporary medicine, including original research on the effects of the environment on human health.
In addition to Kephart, Diez Roux, and Rodríguez, authors of the study include Brisa N. Sánchez (Drexel), Jeffrey Moore (Drexel), Leah H. Schinasi (Drexel), Maryia Bakhtsiyarava (Berkeley), Yang Ju (Berkeley), Nelson Gouveia (University of Sao Paulo, Brazil), Waleska T Caiaffa (Federal University of Minas Gerais, Brazil), Iryna Dronova (Berkeley), and Saravanan Arunachalam (the University of North Carolina at Chapel Hill).
In additon, Science Magazine featured the research in an article: Extreme temperatures in major Latin American cities could be linked to nearly 1 million deaths