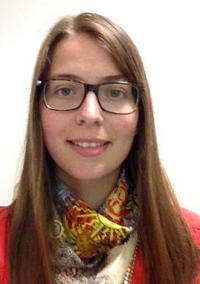 Verizon Labs' Aude Marzuoli presented Improving Decision Making and System Performance in Transportation with Mobile Phone Data at the ITS Transportation Seminar on March 1, 2019 at 4-5 p.m. in Hearst Memorial Mining Building. 
Abstract
Over the past few years, measuring performance in transportation has shifted from delayed system reporting to real-time information sharing. Each individual's movements are being recorded at different spatial and temporal granularities, passively and actively. This talk aims at demonstrating the added value of such data to provide decision makers with detailed, quantitative and actionable insights. The first use case presented focuses on airports: mobile phone data can provide reliable measurements of transit times and air passengers movements, in and out of each airport. This enables an independent benchmark of airport performance, and supports real-time estimates of disruptions. The second use case addresses the needs related to hurricane season every year through an analysis of the impact of Hurricane Harvey in Texas in 2017. From the decision to evacuate certain counties or not, to the monitoring of evacuation proceedings, to the recovery process, mobile phone data provides time-critical information.
Presenter
Aude Marzuoli is a principal scientist at Verizon Big Data & AI, working on mobile phone location and browsing data for 70+ million users. Previously, she was a research scientist at Pindrop, an Atlanta-based cybersecurity start-up, focusing on telephony abuse and designing new solutions to detect phone fraud. She is passionate about data mining, machine learning, networks and optimization. Aude received the masters degree in electrical engineering from Supelec in France, and the masters and Ph.D. degrees in Aerospace Engineering from Georgia Tech. She has previously worked with NASA Ames, the FAA, European Institutions, several airlines and airports.