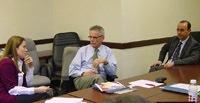 California State Senator Alan Lowenthal (D-Long Beach) visited ITS Berkeley on Wednesday, March 10, to gather information on high-speed rail and other transportation-related topics. Senator Lowenthal is the Chair of the Transportation and Housing Committee and represents the 27th District. He was joined by Arthur Bauer, Staff Director of the Senate Transportation and Housing Committee.
ITS Director Samer Madanat welcomed the visitors with an overview of ITS Berkeley and its many affiliate centers. Professors Mark Hansen, Adib Kanafani, and Carlos Daganzo contributed to a detailed discussion of high-speed rail, including access and egress issues, air-travel impacts, environmental impacts, and ridership projection data.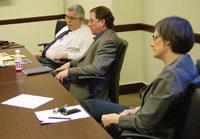 Wide-ranging discussions on other California transportation issues (including Transportation GHG emissions, AB32 and SB375) also took place with faculty and researchers, including Dr. Susan Shaheen, Dr. Timothy Lipman, Professors Dan Chatman, Paul Waddell, and Joan Walker, and Dr. Jasenka Rakas.
While on campus, Senator Lowenthal also delivered a guest lecture in Political Science Professor Ted Lempert's class on California Politics, and visited the Berkeley Seismology Lab to learn more about an earthquake early warning system that could be critical to the operation of a high-speed rail system.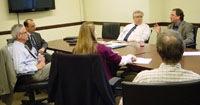 The 27th District includes  Artesia, Avalon, Bellflower, Cerritos, Downey, Florence-Graham, Hawaiian Gardens, Lakewood, Long Beach, Lynwood, Paramount, Signal Hill, South Gate, and Willowbrook.
Photos:
Top (left to right): Susan Shaheen, Senator Lowenthal and Samer Madanat
Center: Arthur Bauer, Timothy Lipman, and Joan Walker
Bottom: Senator Lowenthal, Samer Madanat, Arthur Bauer, Timothy Lipman, Paul Waddell, and Susan Shaheen