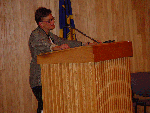 macmillan at lectern
Therese McMillan, Deputy Administrator of the Federal Transit Administration, described changes in transportation policy in the Obama administration, and invited ITS transportation and planning students to consider a career in public service.
McMillan was the first to receive a concurrent degree from UC Berkeley in city planning and transportation planning -- a joint M.C.P./M.S. in city planning/civil engineering science. She served as Deputy Executive of Policy at the San Francisco Bay Area Region's Metropolitan Transportation Commission before being tapped in July for the federal position.
She opened her talk, which was held April 9 in Sibley Auditorium, by describing how extraordinarily helpful the dual degree she received in 1984 had been over her quarter-century career, and she applauded the interdisciplinary approach to transportation and planning she acquired as "crucial" in her current position.
"I will say that in Washington, one of the clear messages today is that no one can work in a silo," she said, adding that heads of the Department of Transportation, Housing and Urban Development, and the Environmental Protection Agency were sitting down together for the first time to work on initiatives that involve all three agencies.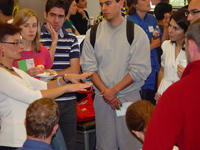 She reported that transit is high on the DOT's agenda, as is safety. She described federal efforts to extend the definition of sustainable livability beyond transit-oriented development in urban areas to include rural communities, where improved transit can allow older residents to remain in their communities and still access medical care that may be 60 miles away. Similarly, she suggested that older suburbs are ripe for housing and transportation makeovers.
McMillan also made what she called a "shameless" appeal to students in the audience to consider going into public service.
"Seventy percent of senior federal executives are eligible for retirement in less than five years," she said. "We're going to see a huge turnover in the wisdom and knowledge base that currently exists in the federal government. That said, it is also opening up a lot of doors for new thinking and an infusion of new ideas."
The Friday seminar is a weekly event organized and hosted by Transoc, UC Berkeley's student transportation organization. An announcement will be made when the video of McMillan's talk is available.
Photo Top: McMillan speaks at Sibley Auditorium.Photo Bottom: McMillan speaks with students at Cookie Hour in the ITS Transportation Library.