Public transit has received government subsidies for four decades, but a USC transportation professor told an overflow crowd at the Faculty Club on February 3 that transit has failed to meet its basic objectives.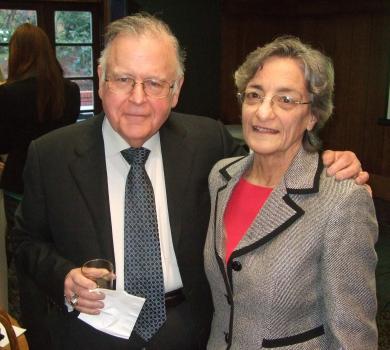 USC professor Genevieve Giuliano, the guest speaker at the fifth annual Wachs Lecture, named for former ITS Director Marty Wachs, said transit investments have not increased transit market share, improved basic mobility, changed the structure of U.S. cities, or reduced congestion and air pollution.
In her talk, "What's Wrong with U.S. Public Transit Policy?" she said one reason for its lackluster performance was failure to pay adequate attention to meeting the needs of its best customers--those who are most dependent on public transit.
"There are really two different markets for transit," said Giuliano, who is also the director of METRANS. One market is composed of discretionary riders who tend to live outside the central city, make longer trips, and use transit when it is convenient. The other is made up of riders who are truly dependent on transit to get to jobs or services because they don't have cars or have limited access to a car.
"These riders tend to be poor, elderly, or from minority groups," she added. "They are likely to live in the central city and use transit for relatively short trips."
And these core riders are far less happy with the service provided than the first group, according to Giuliano. When asked, transit dependent riders complain more than discretionary riders that buses or trains are crowded, finding a seat is difficult, stations and vehicles are dirty, service is often unavailable when they need it, and they worry about crime.
"I think we're not paying enough attention to current transit users, but instead to riders we might get in the future," she said. "That's why we see service cuts and fare increases instead of cuts in administrative costs in response to current budget problems."
Transit subsidy history
But the real roots of transit's problems are deeper and more complex than failure to pay attention to the needs of customers. In the 1960s when public subsidy of transit began, its goals were to revitalize failing urban areas and provide access to jobs in those areas. Over subsequent decades public transit's objectives expanded to include reducing congestion and air pollution, meeting land use objectives, supporting the concept of "smart growth," and addressing climate change and public health problems like obesity.
Giuliano says there's little evidence to suggest transit has been very effective in solving any of these problems, yet strong political support for transit subsidies continues.
Part of the reason for such support is the tendency to not expect near-term results. Transit subsidies are viewed as an investment in the future—a sort of "if you build it, they will come" mentality. That, in turn, results in little short-term accountability.
Another reason transit subsidies are popular is there is broad distribution of funding, which appeals to voters, along with a belief that transit projects will bring money and jobs to local communities.
Broad support, however, brings with it a mismatch of funding imperatives. Thirty-five percent of total transit ridership is centered in the New York metro area, she noted. "Yet it's taken decades to fund the Second Avenue subway line in New York City, while at the same time we're funding projects in Utah."
Why does this matter?
Voters support public transit, and transit service is critical in some markets, but increasing subsidy demands are not sustainable, she said. In addition, today's transit systems face a host of problems, ranging from aging capital stock, growing operating costs, and the loss of public subsidy of revenues from taxes due to the recession, to new alternative fuel bus fleets that will cost more for maintenance and operation.
In a more perfect world, we would price cars and parking at higher levels, but Giuliano acknowledged that "raising the fuel tax is anathema in Washington."
Instead she suggested a good start might be to better quantify the costs of current practices as well as the incidence of costs and benefits. She also believes in restructuring incentives.
"Why not have subsidy systems based on performance?" she asked.
The Wachs Lecture was created by transportation and planning students to honor Professor Martin Wachs upon his retirement. The Lecture rotates between Berkeley and UCLA, the campuses at which Marty taught. To support the Wachs Lecture fund, go here. Recent grads and current students, please note: The University has offered to match all donations made by students who graduated after 2006.
--Christine Cosgrove