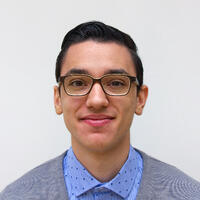 Congratulations to PhD Student Aaron Kandel, who presented his work at the Modeling, Estimation, and Control Conference (MECC) "Rising Stars" program during the Oct. 2-5, 2022 conference in Jersey City, NJ. 
The American Society of Mechanical Engineers (ASME) Dynamic Systems and Controls Division (DSCD) Rising Stars invited talks are designed to help kick-start the careers of postdocs and senior Ph.D. students nearing graduation. The selected individuals will give 15-minute-long presentations (with 5-minute Q&A) during special DSCD Rising Stars invited sessions to discuss their recent and most high impact research.
 Kandel spoke about his research that investigates the open question of safety and certification of learning-based control systems. By coupling deep reinforcement learning and robust optimization methods with dimensionality reduction, his work allows fast and robust real-time learning-based control of safety-critical industrial systems, hedging against uncertainty and distributional shifts. He validates his approach by developing optimal fast charging protocols for li-ion batteries that preserve cell health while reducing charging times by 34% relative to industry standard methods.