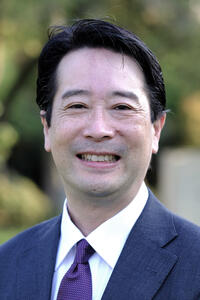 Congratulations to ITS affilaite, CEE Professor, and Center for Smart Infrastructure directpr Kenichi Soga on his induction into the National Academy of Engineering (NAE)! Soga was elected for his achievements in geomechanics and computational modeling, as well as underground infrastructure simulation and monitoring. He is one of 106 new members and 18 international members elected to the academy. NAE membership is considered one of the highest professional distinctions given to an engineer.
Soga is a Donald H. McLaughlin Chair in Mineral Engineering and a Chancellor's Professor. He also holds a dual appointment as a faculty scientist at the Lawrence Berkeley National Laboratory. His recent research areas include partnering with the East Bay Municipal Utilities District (EBMUD) to create advanced remote sensing technologies to monitor critical infrastructure systems better and help aging infrastructure. Soga is also the founding director of the Center for Smart Infrastructure, launched in 2021 by Berkeley Engineering to cover this area of research, with CEE Professors Dimitrios Zekkos and Matt DeJong as co-directors of the center.
NAE membership honors individuals who have made outstanding contributions to pioneering new and developing fields of technology and developing or implementing innovative approaches to engineering education, among other areas. Newly elected academy members will be formally inducted during the NAE's annual meeting on Oct. 1, 2023.
Check out the full story on Berkeley Engineering and the NAE press release.