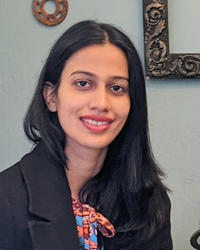 Congratulations to Civil and Environmental Engineering doctoral candidate Anu Kuncheria on earning the Soroptimist Founder Region Fellowship. 
Kuncheria is advised by Smart Cities Research Center Director Dr. Jane Macfarlane and Civil and Environmental Engineering Professor Joan Walker. Her research is in the interdisciplinary field of spatial analysis and machine learning to develop models for urban pattern identification. Her work involves developing a socially-aware transportation framework to evaluate vehicle routing in city-wide networks. She is a researcher at the Smart Cities Research Center.
Soroptimist Founder Region Fellowship, Inc is a non-profit founded in Oakland, California in 1921. The Fellowship program raises money to award outstanding women doctoral students attending accredited colleges and universities.