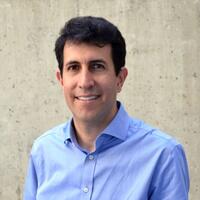 With 2022 just begun, leadership changes afoot for ITS Berkeley. After seven years of tremendous service to the ITS community, Electrical Engineering and Computer Science Professor Alexandre Bayen has stepped down as ITS Berkeley Director and has become the new Associate Provost for Moffett Field Program Development. We are thankful for his many contributions and wish him all the best in his new position.
We are pleased to announce that City and Regional Planning Department co-chair and Professor Daniel A. Rodríguez will serve as Interim Director during the search for a permanent director.
"I am honored to lead the Institute during this time," says Rodríguez. "I am grateful to Alex for his leadership. The Institute is in a very strong position, and I look forward to building on our success."  
In addition, CA Partners for Advanced Transportation Technology (PATH) has a new Faculty Director.  Civil and Environmental Engineering Professor Scott Moura began his term as Faculty Director Jan. 1, 2022.
Moura will bring forward a vision and experience in electrification that will open new opportunities while maintaining the success and relevance of PATH for years to come. He is well known in the area of batteries, electric vehicles, the supporting electric grid and control systems including AV's, all areas that will define California's and the nation's future in transportation.
 "I am very excited for this new opportunity and look forward to seeing what the PATH community can accomplish as we move forward together," says Moura.
PATH Faculty Director Professor Trevor Darrell has graciously agreed to stay on through mid-2022 to help smooth the transition. ITS Berkeley is grateful for his leadership and vision in founding and growing the PATH affiliate program called Berkeley Deep Drive (BDD). BDD has worked very closely with industry to provide research funding and opportunities to so many UC Berkeley faculty, researchers, students, and staff. Darrell and BDD will continue its affiliation with PATH for the foreseeable future.
PATH is in the middle of a search for its next Co-Director. While Tom West retired as the California PATH Co-Director in June, he has kindly come back on recall to help lead operations, and ITS Berkeley is thankful for his continued leadership and contributions. Additionally, Dr. Zema Katsnelson took on the role of Chief Operations Officer after Bob Meade retired in June, and Anthony Patire and Ben McKeever have stepped up to support the organization and work on strategic directions during this period of transition. ITS Berkeley appreciates all PATH staff for their dedication and commitment to PATH's mission during this period.
We look forward to this new chapter at ITS and PATH and look forward to the future.