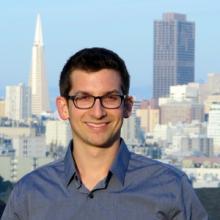 Jonny Simkin, of Swiftly, presented Leveraging Big Data to Improve Operational Performance, Reliability, and Efficiency on February 9, 2018. 
Abstract
The existing public transit infrastructure in the United States already generates a tremendous amount of data, however, this information is often not used as effectively as it could be. In this session, we will discuss some of the ways that Swiftly is leveraging billions of data points to help transit agencies improve operational performance, reliability, and efficiency.
Jonny Simkin is the Co-founder and CEO of Swiftly, a big data platform that helps public transit agencies improve their operational performance, service reliability, and real-time passenger information. Swiftly currently works with more than 35 cities and impacts the lives of over 2 million transit riders every day. Prior to founding Swiftly, Jonny was the Director of Product at Rafter Inc., where he helped 3 million students save over $700 million on college textbooks. Before Rafter, Jonny was the Co-founder and CEO of HubEdu, Inc. which was acquired by Rafter in 2012. Jonny holds a Bachelor of Science in Engineering with an Economics Concentration from Harvey Mudd College. In his spare time, he enjoys hockey, ping pong, tennis, and coffee.