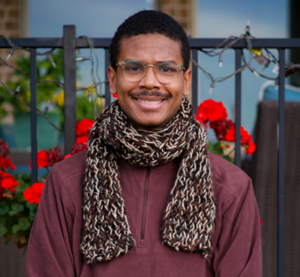 CSCRS is proud to announce Aqshems Nichols, a University of California, Berkeley (UCB) civil engineering doctoral student with a focus on transportation engineering, as its 2022 Outstanding Student of the Year. Nichols will be honored on January 7, 2023, during the Council of University Transportation Centers (CUTC) Awards Banquet. 
CSCRS selected Nichols as its outstanding student as part of a U.S. Department of Transportation program honoring students from University Transportation Centers who have demonstrated achievements in academic performance, research, leadership, professionalism, and potential future contributions in the transportation field. Nichols's research focuses on investigating the relationship between transportation access and the educational outcomes of community college students. During his time at UCB's Safe Transportation Research and Education Center (SafeTREC), he worked on research projects that included a study on the implications of pluralistic ignorance on safety, production of short videos, including one on the role of perception of safety, and an evaluation of active transportation safety. He was awarded the Graduate Fellowship of the FHWA's Dwight D. Eisenhower Transportation Fellowship Program in 2020 and 2021.
Jill Cooper, co-director of SafeTREC, wrote highly of Nichols in her nomination letter: "All of Aqshems' work at SafeTREC has furthered awareness of the Safe System approach. His ability to translate academic concepts into vernacular language is superlative. He is an outstanding student, researcher, and colleague." In fall 2021, Nichols worked as a graduate student researcher, where he worked on CSCRS's R38: Assessing how private beliefs conflict with public action on Safe Systems.(link is external) 
She also reflects on their collaboration in the past, "Throughout the years I have known him, Aqshems has demonstrated an outstanding work ethic, a passion for transportation safety research, an impressive intellect, solid professionalism in working with professors, staff, agency professionals, and students, and striking creativity."
Nichols's dissertation focuses on investigating the relationship between transportation access and the educational outcomes of community college (CC) students. To study these topics, he uses tools such as Python and GIS for spatial data analysis, and he employs qualitative methods such as in-depth interviews and focus groups to acquire insights into the transportation barriers faced by community college students in California. The ultimate deliverable from his dissertation will be the formation of policy recommendations to be submitted to state lawmakers and other stakeholders that advise on how to best improve transportation access to CCs. He expects to complete his PhD in May 2024.
---
About the CSCRS
The Collaborative Sciences Center for Road Safety (CSCRS)(link is external), is a U.S. Department of Transportation-funded National University Transportation Center led by the University of North Carolina at Chapel Hill's Highway Safety Research Center.
CSCRS is one of five national University Transportation Centers announced in November 2016. The Center unites leading university transportation research, planning, public health, data science and engineering programs with the mission to create and exchange knowledge to advance transportation safety through a multidisciplinary, Safe Systems approach.
The UC Berkeley team, led by SafeTREC Co-Director Offer Grembek, is one of five university consortium members, along with the University of North Carolina, Chapel Hill, Duke University, Florida Atlantic University and University of Tennessee, Knoxville.
Learn more about SafeTREC's involvement in the CSCRS.