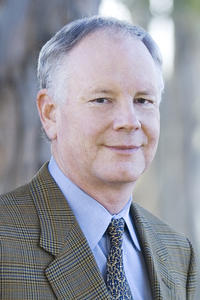 Global Head of Machine Learning & Science at Amazon Web Services Robert Phillips presented Revenue-Maximizing Dynamic Tolls on Feb. 28, 2020 at the ITS Transportation Seminar in 290 Hearst Memorial Mining Building. 
Abstract
In an era of tight government budgets, Private-Public Partnerships -- in which a private company finances all or part of a capital project in return for a future stream of revenue -- have become an increasingly important vehicle for financing infrastructure development.  In the case of highways, the private-public partnership has usually come in the form of toll-lanes financed partially or entirely by a private contractor in return for a share of the tolls (often 100%) for some future period.  These arrangements have proved increasingly popular with state transportation authorities but are sometimes controversial with the public.
We consider the problem that the toll lane operator faces of dynamically setting and updating tolls on a set of managed lanes to maximize revenue in the case in which drivers always have a free alternative available.   This research was based on the participation of the author in the design and development of the dynamic tolling algorithm for the new North Tarrant Expressway and LBJ Freeway projects in Texas.  We discuss both the theoretical aspects of setting such tolls and the practical implications of dynamic toll-setting in such in environment including experience with the two Texas projects.
This is joint research with Caner Göçmen of Facebook and Garrett van Ryzin of CornellTech.
Dr. Robert Phillips is Director of Pricing Research at Amazon where he leads a team of data scientists who develop the analytic approaches underlying pricing for Amazon's retail and marketplace businesses.  Prior to joining Amazon, Dr. Phillips held positions as Director of Marketplace Data Science at Uber, Professor of Professional Practice at Columbia Business School, Director of the Columbia Center for Pricing and Revenue Management and a Visiting Scholar at the Stanford Business School.
Dr. Phillips is also the founder and a member of the Board of Directors of Nomis Solutions; a software and consulting company that helps financial service companies better manage pricing and profitability.  Dr. Phillips previously served as CEO of Decision Focus Incorporated, a consulting company specializing in the application of business analytics in business and government and as CEO of Talus Solutions, a revenue-management software and services company.  During his 25-year career in industry, he was a pioneer in the application of pricing and revenue optimization in many different industries including passenger airlines, cruise lines, rental cars, automotive, hotels, air cargo, trucking, container shipping, and financial services. 
Dr. Phillips is author of the books Pricing and Revenue Optimization and Pricing for Consumer Lending as well as co-editor of The Oxford Handbook of Pricing Management. He is a Fellow of the International Federation of Operations Research and Management Science (INFORMS) and a recipient of the INFORMS Impact Prize.
Dr. Phillips holds a Ph.D. in Engineering-Economic Systems from Stanford University and Bachelor's Degrees in Economics and Mathematics from Washington State University.