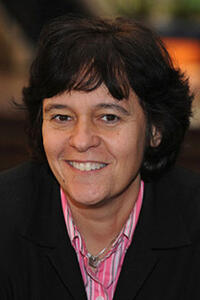 UCLA's Distinguished Professor of Urban Planning and Associate Dean, Luskin School of Public Affairs Anastasia Loukaitou-Sideris will present Sexual harassment in transit environments: A focus on university students on Friday Dec. 4, 2020 at 12 p.m.

This study presents findings from a survey of university students in 18 cities, exploring their experiences with sexual harassment in transit environments, and how these differ by gender, race/ethnicity, and sexual orientation. It finds that sexual harassment is a common occurrence, forcing precautionary behaviors. Nevertheless, reporting of harassment incidents is extremely low. Certain individual characteristics of students and environmental characteristics of transit settings influence the incidence of victimization and student perceptions of safety. The study discusses multi-pronged strategies to tackle harassment in transit environments that include research, design, and policy initiatives.

Anastasia Loukaitou-Sideris is Associate Dean of the UCLA Luskin School of Public Affairs and a Distinguished Professor of Urban Planning. She is the author or editor of nine books and over 100 scholarly papers. Among other topics, she has undertaken research on transit safety and security, women's travel, transit-oriented development, inner-city revitalization, gentrification and displacement. She has served as a consultant to the Transportation Research Board, Southern California Association of Governments, Project for Public Spaces, Los Angeles Neighborhood Initiative, Los Angeles Metro, Robert Wood Johnson Foundation, the Greek government, and many municipal governments on issues of transportation and urban design.