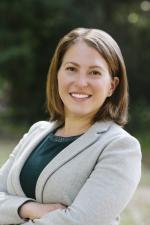 The Institute of Transportation Studies at UC Berkeley (ITS Berkeley) is excited to announce San Francisco Planning and Urban Research (SPUR) Transportation Policy Director Laura Tolkoff has been appointed to serve on the University of California Institute of Transportation Studies (UC ITS) Board of Advisors (BOA). The UC ITS represents all four ITS branches located at UC Berkeley, UC Davis, UC Irvine, and UCLA
"We are very excited to welcome Laura to the UC ITS Board of Advisors," says ITS Berkeley Director Daniel Rodriguez. "We look forward to her expertise in helping us shape our statewide research and engagement."
As SPUR's transportation policy director, Tolkoff believes a sustainable transportation system is the scaffolding for a society that cares for the environment, embraces public life and is healthier, more just and more prosperous. At SPUR, she oversees the transportation program, which focuses on reducing how much people drive and expanding safe, sustainable travel; making transit work well for all people; and supporting complete communities around transit. Tolkoff has worked for SPUR since 2015 and played a key role in various local, regional and state advocacy efforts. Prior to joining SPUR, Tolkoff held a senior role managing the energy and environment program at Regional Plan Association (RPA) in the New York Metropolitan area during and after Hurricane Sandy, spearheading federal, state and regional reforms, and working in coalition to launch a federal design competition that brought over $1 billion to local climate resilience projects.
She earned a master's degree in urban and environmental policy and planning from Tufts University and a bachelor's degree in media studies from UC Berkeley. She is an American Leadership Forum senior fellow and was named to Mass Transit magazine's "Top 40 under 40" in 2019.
The UC ITS BOA was established to help guide and oversee the UC ITS' statewide research and engagement program funded by the State of California through an annual $5 million allocation from the Road Repair and Accountability Act of 2017 (Senate Bill 1), and more recently through a $10 million, one-time allocation included in the 2021 State Budget.
The UC ITS BOA consists of 12 nominated members (each ITS branch nominates 3 members) and 10 ex-officio members representing the California Energy Commissioner.