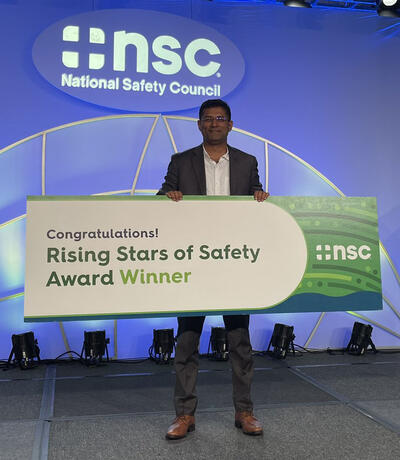 Congratulations to Praveen Vayalamkuzhi who was recently honored as a 2022 NSC Rising Stars of Safety by the National Safety Council in part for his work as a Safe Transportation Research and Education Center Postdoc.
Now in its 13th year, the program recognizes up-and-coming safety professionals under age 40 who have a proven track record of safety leadership in their organization and are dedicated to continuous improvement.
These 39 women and men hail from 31 states and eight countries, making this year's class of Rising Stars NSC's most diverse yet. Each has demonstrated enthusiasm, skills and leadership that will undoubtedly inspire other safety leaders and colleagues. They exhibit a commitment to doing their part in ensuring people live their best lives, free of preventable injury and death.
Praveen Vayalamkuzhi
Age: 39
Postdoctoral Researcher
University of California, Berkeley*
Berkeley, CA
"Praveen developed highway safety evaluation methodologies/strategies and safety improvement decision-making tools for the California Department of Transportation (Caltrans), which are real, practical solutions to existing road safety problems. He helped train Caltrans' safety group with the developed safety decision-making tool, which helps safety investigators rank the locations to investigate and recommend countermeasures. This resulted in the reduction of road fatalities and severe crashes – saving lives."
*Praveen is now founder and president of MobilityVision Inc.
Read more about the Rising Stars Class of 2022: https://www.safetyandhealthmagazine.com/articles/22885-rising-stars-of-s...