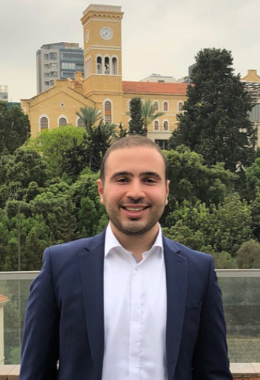 Congratulations to Civil and Environmental Engineering doctoral candidate Ziad Yassine, who was recently awarded the California Transportation Foundation (CTF) Supported Intelligent Transportation Society of California (ITSCA) Scholarship!
"Thank you, ITSCA and CTF, for believing in my research and supporting my academic journey!" says Yassine. "And a special thank you to my doctoral advisor Professor Susan Shaheen and my research manager Elliot Martin at the Transportation Sustainability Research Center for their unwavering guidance and mentorship!"
The CTF supported ITSCA Scholarship advances academic studies and careers in the field of ITS. Eligible students must be Masters/Ph.D. students in an accredited university in California, studying any ITS-related field including, for example, engineering, computer science, transportation planning, or public policy.
Yassine is advised by Civil and Environmental Engineering Professor In-Residence Susan Shaheen, His research focuses on shared mobility, particularly the electrification of carsharing systems. His work is driven by the challenge of bridging the gap between technological advancements and societal needs, and he seeks to understand how electric vehicle carsharing can improve transportation accessibility and equity, especially in underserved communities in California.
Yassine earned his MS in Transportation Engineering at UC Berkeley and his BE in Civil Engineering at the American University of Beirut.
Ziad also works at the Transportation Sustainability Research Center (TSRC). Prior to joining TSRC, Ziad worked on a startup that uses beacon technology to provide indoor navigation and travel services at airports.