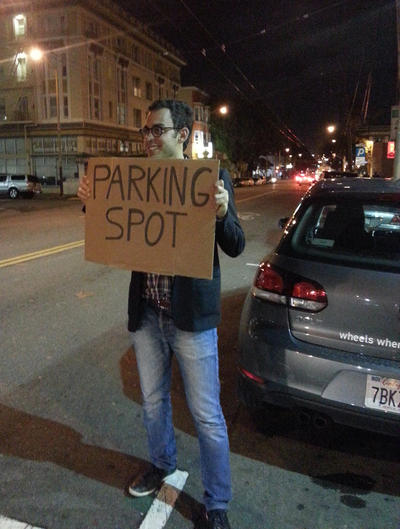 What began as an exercise in frustration over trying to find a parking space to attend classes at UC Berkeley's Learn2Launch program four years ago has blossomed into an enterprising business based in San Francisco. And now, it's coming full circle as SpotAngels is launching in Berkeley Oct. 25, 2018, where it all began.
"Our main goal is to make parking easy and to provide people with the information they need," says Hamza Chahdi, co-founder of SpotAngels, a community-based parking app that helps drivers find parking and avoid tickets.
Chahdi and his team developed an app that displays a map of all parking spots in a city/area and details rules and prices for the spots. This information is kept up-to-date by the community, where anyone can update parking prices and rules on the SpotAngels app by snapping a picture of a sign. In addition, in cities not yet covered users can also edit the map and add parking spots.
SpotAngels not only helps you find a spot, it also helps drivers avoid parking tickets. The app automatically saves the parking location of drivers using the car Bluetooth or phone sensors and sends reminders when it's time to move their car for street cleaning or any other parking rule. In addition to saving the parking location, when drivers leave their spot the app automatically marks it as open for the rest of the community.
"From the beginning, we really listened to our users and what they want," says Chadhi. "We do whatever we can to support the community. It's amazing how the community responds to us."
SpotAngels stems from a project idea during one of Chadhi's Learn2Launch classes, in the Silicon Valley Innovation and Entrepreneurship Program, an intensive, immersive, and hands-on approach to the study of innovation and entrepreneurship. As a car owner in Berkeley, Chahdi began wondering how much other people felt a parking spot was worth.
"I remember the day when Hamza and one of his cofounders were quite late to meet with me to discuss a parking application they were working on;" recalls him Mark Coopersmith, the founding faculty member of the Learn2Launch program who continues to serve as its lead instructor. "It turns they had parked in a spot that was legal when they parked but became a tow-away zone during the afternoon commute, and their car had been towed. Having to pay that ticket plus all the fees to get their car back really motivated them to come up with a better solution. It took several iterations, and now Hamza and the SpotAngels team have some serious momentum."
During the project, Chadhi determined how much people were will to pay to exchange spots with people by holding a sign in a spot and asking people what it would take to get them to participate in a parking community.
The magic number? A five dollar credit to encourage people to let others know when they were leaving and to pay for to get a spot. With this information in hand, Chadhi and his team developed an app to deploy in San Francisco through the incubator Y Combinator. People would get a $5 credit for leaving their spot and pay $5 to get a spot. The city soon shut down the concept, but they reinvented their idea into the current SpotAngels, now available in 25 cities.
"The lessons I learned during my classes in the Learn2Launch program were invaluable," says Chadhi. "It gave me the necessary tools and confidence to navigate all the challenges we encountered to make SpotAngels a success."
SpotAngels is available on the App Store and Play Store and was previously featured by Apple and Google as "Waze for Parking" among the best apps of 2017. The company is backed by the co-founder of Google Maps, the former Head of Google Street View and prominent investors from Silicon Valley.