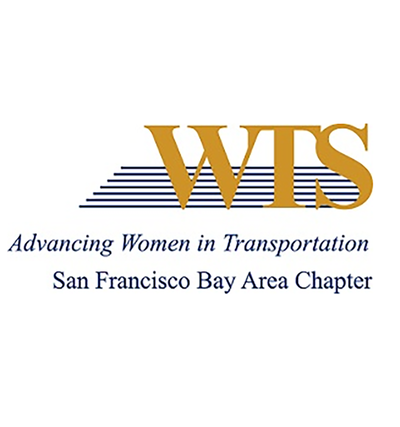 Congratulations to the four UC Berkeley students who earned scholarships from the San Francisco Bay Area Chapter of WTS. This year over $60,000 in scholarship grants were awarded to two graduate, undergraduate and high school students honoring their strong academic skills and interests in developing knowledge and skills related to the transportation industry.
Masters in City Planning (MCP) student Cynthia Armour earned the Maggie Walsh Leadership Legacy Award, which honors an outstanding young woman pursuing graduate studies working toward a career in transportation or a related field, and who demonstrates a specific interest in advancing transportation innovation. Armour is also a Collaborative Sciences Center for Road Safety fellow at Safe Transportation Research and Education Center where she worked on a literature review focusing on policy-making at the intersection of autonomous vehicles and public health. In the course of her masters degree, Armour studies public policy, sustainable cities, environmental justice, community development.
MCP student Christa Cassidy earned the Helene Overly Award, which encourages women to pursue career paths in transportation and looks specifically at transportation goals, academic record, and transportation-related activities or job skills. She is a graduate student instructor at the College of Environmental Design and an intern at Arup. In her masters degree research, she s looking at effects of autonomous vehicles on sprawl patterns; the role of nature in addressing equity and health issues in cities; nature-based solutions for climate adaptation and resilience; transportation policy and finance.
Civil and Environmental Engineering undergraduate student Marissa Milam earned the Sharon Banks Memorial Award that fosters the development of women in the transportation field by encouraging bright new professionals to undertake careers in the area of transportation. Milam is also the president of Institute of Transportation Engineers at UC Berkeley.
Urban planning undergraduate student Mykeisha Mayes earned the Molitoris Leadership Award for women pursuing undergraduate studies in transportation or a related field who demonstrate leadership skills, ability, and interest.
All four of the students will be honored at the special recognition brunch May 11, 2019 11:30 am – 12:00 pm / Lunch Program 12:00 pm – 2:00 pm at the Bellevue Club, in  Oakland. RSVP by May 7, 2019 is you plan to attend.
In addition on June 13, 2019, join WTS members and industry colleagues as they recognize this year's outstanding professionals and projects at the 2019 WTS Annual Awards Event, including honoring UC Berkeley alum Tilly Chang, San Francisco County Transportation Authority, as Woman of the Year. Chang earned a BA in Economics and minoring in City Planning with an emphasis on transportation at UC Berkeley, and serves as Executive Director of the San Francisco County Transportation Authority. Under her leadership, the SFCTA is coordinating, funding and overseeing the delivery of the Presidio Parkway, Yerba Buena Ramps, Muni Central Subway project, Transbay Transit Center, Caltrain Electrification and Van Ness and Geary Bus Rapid Transit, as well as updating the countywide long-range transportation plan known as the San Francisco Transportation Plan. Chang has 20 years of experience including 12 years with the Transportation Authority and previous posts at the World Bank, Metropolitan Transportation Commission and in the private sector. She serves on ABAG's Regional Planning Committee, is a board member of the California Transportation Foundation, and advises SPUR and the UC Transportation Centers. Ms. Chang holds degrees in Transportation from M.I.T. She received a WTS scholarship as an undergraduate in 1992.

RSVP by Thursday, May 30, 2019, as seating is limited and ticket sales end when the event is sold out or on May 30. Walk-ins cannot be accommodated. The event starts with a cocktail hour at 5 pm with dinner and program at 6:30 pm on June 13 in Oakland.