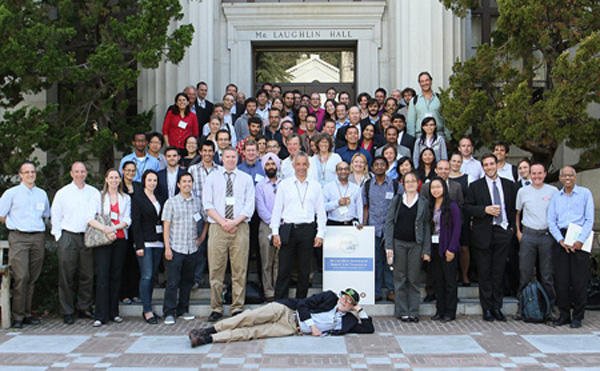 Professor Mark Hansen (reclining) and participants from Europe and the U.S. gathered at UC Berkeley for the fifth ICRAT conference.
Two recent ITS Ph.D. graduates received "Best Paper" awards at the four-day Fifth International Conference on Research in Air Transportation (ICRAT) held at UC Berkeley May 22-25.
The two alumnae, Amy Kim, now a faculty member at University of Alberta, and Yoonjin Yoon, who teaches at KAIST, co-authored papers with ITS civil and environmental engineering professor Mark Hansen, who helped organize the conference.
The 60 
papers
 accepted were divided into nine general areas: advanced modeling; air transport economics and policy; airline operations and quality of service and marketing; airport design; decision support tools; environment and weather; future concepts and innovative ideas in air transport; human performance, safety, and security; and, socio-economic-institutional challenges and socio-technical complexity in air transport.
Five current ITS Ph.D. students, a visiting scholar and eight former students, many of whom now teach at other universities, presented papers ranging from flight cancellation behavior and delay savings to where to launch a new passenger air route between China and the U.S.
The conference "provides young researchers a chance to share their research with veteran researchers and the research community," said ITS Ph.D. student Gukaran Buxi.
"It also offers an opportunity to network and collaborate with other researchers in the U.S. and Europe and to propagate new areas of air transportation research," added Bo Zou, who recently completed his Ph.D. and has accepted a job at the University of Illinois at Chicago.
The papers were presented at the conference, which included more than 100 participants from academia, industry, and government.
ITS participants included civil and environmental engineering professor Mark Hansen, deputy director of NEXTOR 
Jasenka Rakas
, students Bo Zou, Lu Hao, Gukaran Buxi, Yi Liu, Irene Kwan, Michael Seelhorst and visiting scholar Pernilla Ulfvengren. ITS alumni included 
Tatjana Bolic
, 
Amy Kim
, 
David Lovell
, 
Megan Ryerson
, Vojin Tosic, 
Yoonjin Yoon
, 
Seth Young
 and 
Yu Zhang
.
The conference was organized by the FAA and Eurocontrol. Co-sponsors include NASA and the Joint Planning and Development Office, a multi-agency public/private initiative tasked with coordinating the development of the Next Generation Air Transportation System.
--Christine Cosgrove
--photo/Irene Kwan