A visiting scholar from the Kyrgyz Republic has come to UC Berkeley to study traffic safety management in hopes of cutting traffic deaths along parts of the ancient Silk Routes established during the Han Dynasty more than 2,000 years ago.
During a noon seminar, Professor Kubatbek Muktarbek introduced 
SafeTREC
 staff and students to the landlocked Central Asian country, formerly known as Kyrgyzstan, and showed photos of traffic-clogged roads that once served as important trade routes that nurtured the civilizations of China, India, Persia, Europe and Arabia.
They are still important routes in terms of trade, said Muktarbek, an associate professor at Kyrgyz State Technical University who came to UC Berkeley on a Fulbright Scholarship. Today, however, increased motorization combined with the rising cost of land has become hazardous to pedestrians.
In 2002, there were only 95,000 registered cars in the country; by 2011 that number had swollen to almost 350,000, Muktarbek said.
"We were traditionally a nomadic country, but now instead of horses, we're using Mercedes Benzes and Japanese cars. I call them metal horses."
Moreover, as land has become more expensive, homeowners have expanded their buildings out toward paved roadways, cutting off what used to be pedestrian walkways and forcing those on foot to move onto the pavement.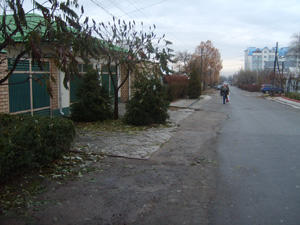 "Everybody with a house is taking away public space" and increasing the number of pedestrian deaths, he said.
Intersections in cities are also responsible for traffic deaths, accounting for 40 percent of crashes in cities. "We need to concentrate on improving intersections."
"There are approximately 1,200 traffic-related deaths every year in Kyrgyzstan," he added.
As for transit, the entire bus system collapsed with the Soviet Union. Now public transport consists primarily of privately owned micro-buses that hold 15 to 18 passengers.
A good transit solution would be to revitalize the electric trolley system, a holdover from the Soviet era, in cities like Bishkek, the country's capital. Ninety percent of the mountainous country's electricity comes from hydropower.
"If we don't use renewable electrical energy, something is wrong with us," he added.
SafeTREC Director David Ragland noted that Muktarbek is the first Fulbright Scholar to take up residence as a visiting scholar at SafeTREC and joins a long list of international researchers and academicians who have come to SafeTREC over the past decade to pursue transportation safety research work. Countries represented include China, South Korea, India, Colombia, Mexico, Israel, Brazil, France, Turkey and Canada.
SafeTREC is active on the newly formed TRB Subcomittee on Global Road Safety as part of a broader push to begin to establish a global road safety knowledge and training network in response to the rapid rise in traffic fatalities around the world. In middle- and low-income countries, by 2020, they are projected to nearly double from 2000 levels. In 2009, there were more than 1.2 million fatalities worldwide, and 50 million injuries.