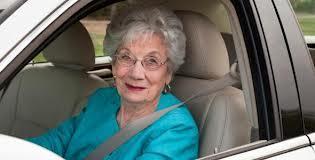 Older adults may not be the first group of people that comes to mind when considering possible early adopters of a carsharing program using electric vehicles.  
But Susan Shaheen, co-director of the Transportation Sustainability Research Center (
TSRC
), told participants at a recent meeting of the 
Intelligent Transportation Society of California
 that a majority of older adults living at a large Bay Area senior adult community are interested in both carsharing and driving electric vehicles.
While almost all of the 9,500 seniors living in Walnut Creek's Rossmoor have cars, many use electric golf carts to get around the 1,800-acre community—even those who never play golf.
Beginning several years ago, TSRC researchers, partnering with Nissan, began studying the transportation habits of Rossmoor residents through interviews, surveys, and focus groups.
"In many ways, Rossmoor was the perfect environment to test carsharing with an EV because this group doesn't typically drive long distances," said TSRC's Madonna Camel, project manager. They don't need to worry about the range limitations of an electric vehicle. And many are familiar with electric golf carts.
They also may not need a car every day. They don't commute, but they do drive for shopping, doctor visits, and to visit friends and family.
"It really is an ideal combination of frequency and location," she added.
The researchers found that residents had a high comfort level with electric vehicles in terms of safety, driving, plugging them in, and using smart keys and PIN code access.
Sixty-two percent of those surveyed said they would be willing to use an Internet-based system that provides information on vehicle availability, charging status, and vehicle reservations, while 46 percent would prefer a phone-based system.
Many reported they would use an electric carsharing vehicle two to three times a week.
The TSRC study is the first of its kind to collect data pertaining to electric vehicle carsharing in a population living in a senior community.
"The number of drivers 65 years of age and older is expected to double to 57 million by 2030," Shaheen told conference participants. "Many destinations are too far to walk, alternatives such as taxis are too expensive, and public transit and other specialized transportation services are limited. Carsharing may be a notable solution for people living in these communities on fixed incomes."