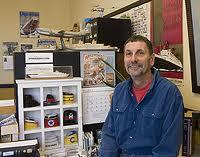 Dan Krummes, treasured colleague and former director of the
 Institute of Transportation Studies Library
, passed away on Thursday, October 18, at the age of 62 following a long illness.
Dan joined the institute's library in 1976. He was named Chief Cataloger in 1981, Library Co-Director in 1992, and served as Library Director until his retirement in 2006. A capstone to his long and distinguished career was being named 
"Distinguished University Librarian"
in 2005 by the Librarians Association of the University of California, Berkeley, the highest honor bestowed by the University upon campus librarians.
A member of the Special Libraries Association for more than 25 years, Dan was active in the Transportation Division, serving as division chair, chairing numerous committees, and editing the division's bulletin. He served on the association's nominating committee and on the board of the San Francisco Bay Region Chapter. Dan also was involved with the Transportation Research Board and served as Secretary of the Library and Information Science for Transportation Committee for six years.
Dan had a deep and abiding interest in transportation, particularly maritime history. His exceptional leadership of the library is reflected in the outstanding depth and breadth of the collection. His influence is seen in the ongoing involvement of library staff in national efforts to improve access to transportation information.
"I had the pleasure of working with Dan for more than five years and have him to thank for being involved not only with transportation, but with the transportation library community," said Rita Evans, director of the ITS Library. "He greatly valued his professional connections and the many friends he made during his career and he conveyed the importance of those networks to me. He left big shoes to fill and I will sorely miss Dan as a friend and colleague."

Dan is survived by Douglas Brookes, his partner of 36 years. Condolences can be sent to him at 3927 La Cresta Ave, Oakland, CA, 94602. A memorial service will be held on November 18, 2012, in the Morrison Room of Doe Library at 2 p.m. Donations in memory of Dan may be made to: Hopalong Animal Rescue, PO Box 27507, Oakland, CA 94602.