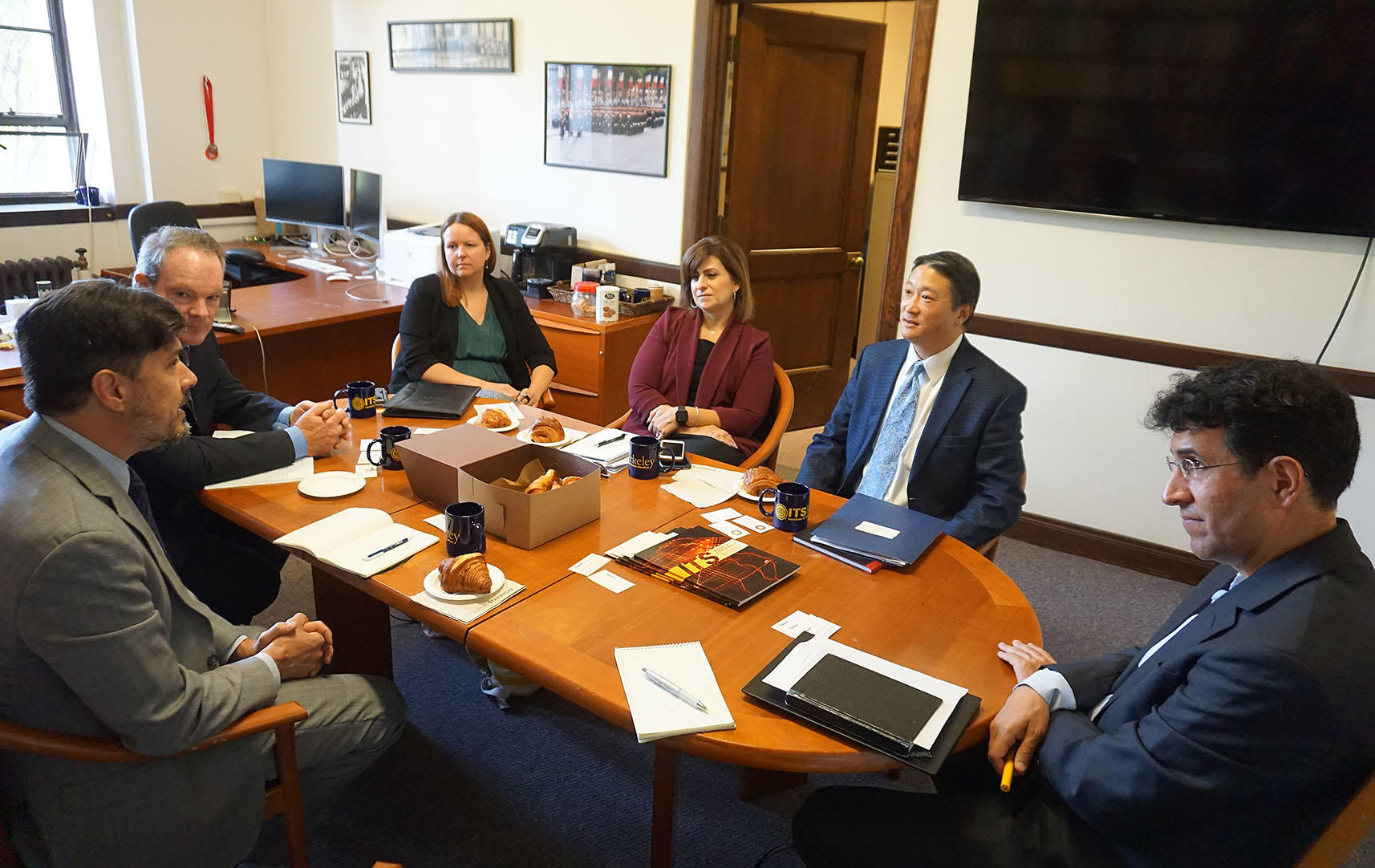 As the recently appointed Secretary of the California State Transportation Agency (CalSTA), David Kim is looking forward to getting informed about the state's transportation resources.
In a visit to the Institute of Transportation Studies (ITS) Berkeley Thursday, July 25, 2019, Kim was excited to hear about new technologies, policies and innovations at ITS, and its centers and programs, in addition to exploring potential new areas for CalSTA and ITS to connect on in the future.
"We're looking at possibilities on how to deploy emerging technology to manage traffic and disruptions," says Kim, adding that increasing pedestrian, bike and highway safety are top priorities. "We want to keep California stay ahead of the curve and reach out to experts who can tell us what will or won't work for the state."
Kim, with Deputy Secretary of Communications and Strategic Planning Melissa Figueroa and Deputy Secretary for Legislation Melanie Perron, met with ITS Director Alexandre Bayen, Associate Director Daniel A. Rodriguez, and California Partners for Advanced Transportation Technology (PATH) Co-Director Tom West to discuss CalSTA and ITS Berkeley research and opportunities.
"It was an exciting opportunity to look at where the state is at and how our research can potentially assist in shaping the future of California transportation," says Bayen.
Some of the highlights from the meeting include conversation around the institute's involvement in one of the newest national University Transportation Center National Institute for Congestion Reduction (NICR), the only UTC focusing on relieving traffic congestion, in addition to ITS's participation in the Collaborative Sciences Center for Road Safety UTC. Kim was interested in how research from these centers could impact state systems to increase safety and reduce congestion.
Rodriguez and Bayen also outlined the 2019 strategic plan, focusing on ITS's two research pillars: innovative transportation technology that benefits everyone and contributes to the public good and data science, and how all the ITS Berkeley centers dovetail into those pillars to increase safety, systems and innovation on numerous areas of transportation.
West also talked about PATH's partnership with Caltrans and programs that are growing at PATH, including Berkeley DeepDrive, a consortium of 23 industry members funding artificial intelligence for autonomous vehicles and traffic management, and Connected Corridors, providing new technology and methodology in managing transportation corridors to reduce congestion.
Kim will continue to meet with all the UC ITS groups and academic transportation centers as he settles into his new position that oversees all transportation departments in the state, including Caltrans, the California Transportation Commission, the Office for Traffic Safety, the California High-Speed Rail Authority, the DMV, and the CHP.