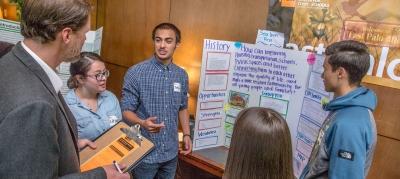 This story originally appeared at College of Environmental Design 
Y-PLAN is one of the first winners of the inaugural Bay Area Metro Awards. Launched jointly by the Association of Bay Area Governments (ABAG)  and the Metropolitan Transportation Commission (MTC), the awards program honors positive impacts on the Bay Area's mobility, affordability, resilience, and community, and recognizes efforts that make the region a better place to live, work, and play.
Y-PLAN — which stands for Youth, Plan, Learn, Act, Now — is a program founded and run by UC Berkeley's Center for Cities + Schools, which offers a framework for students to meaningfully engaged with current issues facing cities. Students are given the opportunity to conduct ecological, social, and political research about the impact of climate change, sea level rise, and healthy, vibrant communities.
Throughout the 2017-2018 school year, the Center for Cities + Schools took its Y-PLAN framework and partnered with Resilient by Design to develop an aligned youth resilience challenge. The program supported nearly 800 students in 32 classrooms within 13 elementary and high schools across five cities — Richmond, Oakland, San Francisco, East Palo Alto, and San Rafael — and challenged them to plan and design a resilient future for their own communities. 
Over the course of a year, students engaged with local residents, public officials, and local, national, and international experts to co-design innovative and implementable solutions that emphasized local specificity and ownership. Students developed more than 70 proposals that addressed sea level rise, housing displacement, food security, active transportation, and college access. Their ideas were presented at the 2019 Y-PLAN Policy Summit: Planning a More Inclusive and Resilient Region, where students met with officials from the Metropolitan Transportation Commission, San Francisco Planning Department, the City of Oakland's Sustainability Department, and the City of Richmond's City Manager's Office. 
"Young people bring a different voice to the equation. We also work in urban public schools so the overwhelming majority of our students are low-income students of color. So we're not only bridging gaps of age, but we're also bridging gaps of race and income level and power dynamics," noted Amanda Eppley, Assistant Director of the Center for Cities + Schools. 
Elizabeth, a Y-PLAN scholar from East Palo Alto, remarked about the Y-PLAN program: "They're asking us. I notice that students are waking up to we're the ones who create change." 
"We honor this year's winners to say thank you for the work they are doing and we hope that the winners' stories will inspire others to strive for excellence in their daily tasks," said ABAG President and MTC Commissioner David Rabbitt.
Read about the other winners here.