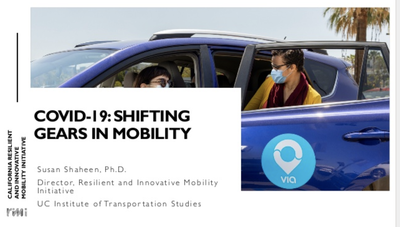 University of California Institute of Transportation Studies Resilient and Innovative Mobility Center Director, UC Berkeley Transportation Sustainability Research Center Co-Director, Civil and Environmental Engineering professor Susan Shaheen shares her presentation focusing on the COVID-19 crisis and opportunities, highlighting social equity, public transit, and shared mobility impacts. See her reflections from the April 27, 2020, 3 Revolution's webinar, hosted by ITS Davis.
"It was an honor to present along with Seleta Reynolds of LA DOT and moderator Dan Sperling of ITS Davis," says Shaheen.
See the video above.
See the slide show:  https://www.slideshare.net/susanshaheen/covid19-shifting-gears-in-mobility