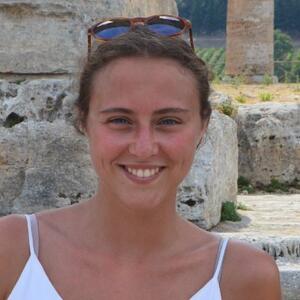 When the French Minister Delegate to the Minister for Europe and Foreign Affairs, in charge of Foreign Trade and Attractiveness, Franck Riester went on a virtual trip to the United States on Oct. 22, 2020, UC Berkeley Civil and Environmental Engineering doctoral student Mathilde Badoual was on his agenda.
"It was really a surprise and an honor to be selected to meet with Mr. Riester," says Badoual. "Berkeley is a great place and I feel honored to be connected with professors and colleagues that open up these opportunities."
A graduate student under CEE Professor Scott Moura in the Energy Control and Application Lab, Badoual was one of a handful of young French talents living in the United States (prior to COVID restrictions) that Riester met with over Zoom in a larger program to meet representatives of the French business community in the United States and the U.S. business world to talk about the measures taken by France to address the health and economic crisis, notably the government's €100 billion recovery plan and its export and economic attractiveness pillars. He also spoke with American business leaders investing in France or planning to do so.
While the focus of the meeting was on business, Riester met with Badoual and four other US based students who are looking at an early career between the US and France. Badoual shared her experiences in the US, opportunities she has had and what drew her to the US to study. Currently, Badoual is working on applying optimization and reinforcement learning methods to Energy Systems. She said one of the perks of studying at Cal is the freedom to explore areas and build a program that fits her and her interests.
"I really wanted to know and experience the style of teaching and the start-up culture of Berkeley and the Bay Area," says Badoual. "I really love it. And the access I have had and the caliber of my advisor and professors has been wonderful."
While still in her studies, Badoual is looking to explore what she can in the US and eventually return to Europe for her career.