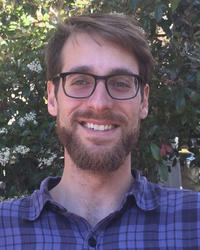 Congratulations to Teddy Forscher for earning the $5,000 California Transportation Foundation Graduate School Scholarship! Forscher is a doctoral student in Civil and Environmental Engineering within the Transportation Engineering Program. 
"It is really quite difficult to put into words how meaningful the support of the California Transportation Foundation is for me at this point in my young career," says Forscher. "Particularly given current uncertainty due to the COVID-19 pandemic, I am extremely humbled by the chance to help develop a better understanding of how, and how well, Californians are accessing (and will continue to access) basic necessities and other items via online, in-person, and other means."
Forscher is advised by professors Susan Shaheen, Joan Walker and Elizabeth Deakin. He is focusing his studies on investigating the effects of road and area pricing strategies on goods movement in urban areas, with particular interest in the emergence of shared-use platforms for first- and last-mile movements.
The CTF Graduate School Scholarship recognizes a student who is studying a transportation related field; are currently enrolled as a student in good standing in a California graduate school, or is currently enrolled in an undergraduate institution and has been accepted into a California graduate school; and are a United States citizen, permanent resident, or studying in legal visa status are eligible to apply. The weight of the selection criteria is: essay (67%); letter of recommendation (11%); undergrad grades (11%); work, professional experience and leadership (11%).