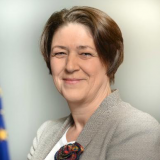 European Commissioner for Mobility and Transport Violeta Bulc presented The Future of European Mobility: Safe, clean and connected Sept. 25, 2018 in 290 Hearst Memorial Mining Building at 4 p.m. 
Violeta Bulc, European Commissioner for Transport, is responsible for driving the European Commission's agenda on transport and, under her political leadership, for steering the work of a Directorate-General of almost 500 staff and a number of specialized agencies that develop and implement Europe's transport policy. Commissioner Bulc was appointed to office in November 2014 and during her tenure has placed priority on digitalization, decarbonization and innovation in transport. At this event, the Commissioner intends to discuss the topic of 'The Future of European Mobility: safe, clean and connected' which intends to support the goal of the European Union and its industries to be world leaders in innovation, digitisation and decarbonisation. For the mobility sector, that means seeing Europeans benefit from safer traffic, less polluting vehicles and more advanced technological solutions, whilst supporting the competitiveness of EU industry. It also requires driving forward initiatives that integrate road safety with measures for vehicle and infrastructure safety, that regulate emissions, and that promote connected and automated mobility. The discussion will consider the policy approaches that can deliver safe, clean and smart transport.
Tuesday, September 25, 2018 - 4:00pm
290 Hearst Memorial Mining Building
Presenter
Violeta Bulc is a Slovenian politician who has served as the European Commissioner for Transport since 1 November 2014. Bulc earned a bachelor's degree in Computer Science and Informatics at the Faculty of Electrical Engineering, University of Ljubljana, Slovenia, as well as a master's degree in Information Technology at the Golden Gate University of San Francisco. She then worked from 1991 to 1994 as an expert for wide area networks performance analyses at Dhl Systems of Burlingame, California. In 1994 she returned to the then-independent Slovenia, where she worked as the Manager of Institutional Traffic (until 1997) and then the Director of Carrier Business (till 1999) for Telekom Slovenia. From 1999 to 2000 she was the vice-president of Telemach Ltd, a major telecommunications provider, and from 2000 to 2014 the CEO of Vibacom Ltd, Sustainable Strategies and Innovation Ecosystems.