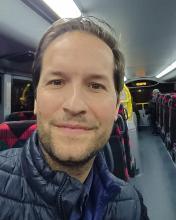 Chris Harrelson, of Google, presented GTFS and Public-Business Partnerships in the Information Age Jan. 25, 2019 in 290 Hearst Memorial Mining Building from 4-5 p.m.
Abstract
GTFS pioneered a new kind of model of software product. In recent years, Powerful computers and networks have revealed a new opportunity for efficient sharing of all kinds information in the world, in real-time. This raises the question: how can we harness this "big data" for everyone's benefit? The story of GTFS is one possible answer.
Chris Harrelson received a BS and PhD from UC Berkeley, then left in 2004 to join Google as a Software Engineer. He founded the project which added public transit search to the Google Maps product, and helped to shape the GTFS interchange format for transit data that is now used in many applications.