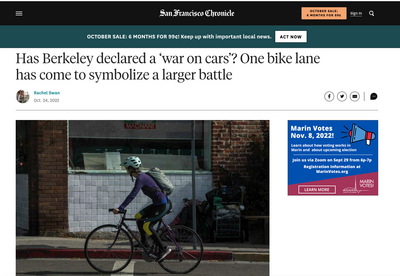 ITS Director Daniel Rodrígueztalks about Has Berkeley declared a 'war on cars'? One bike lane has come to symbolize a larger battle to the San Francisco Chronicle: 
https://www.sfchronicle.com/eastbay/article/berkeley-bike-lanes-17526276.php
To Daniel Rodríguez, director of the Institute for Transportation Studies at UC Berkeley, debates over bike lanes reflect a more visceral tension over the future of cities, and anxiety over a new paradigm of urban planning that no longer prioritizes the automobile. People often spar over roads and curb space because it stands for so many things that are beyond their control, Rodríguez said.
"Change is hard," he added, noting that bike lane feuds pit the interests of future city dwellers against "the demands of today — businesses want parking."