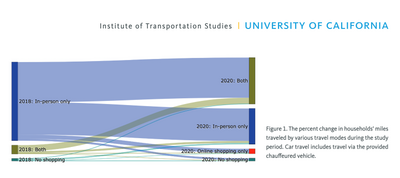 Civil and Environmental Engineering (CEE) doctoral student Teddy Forscher; City and Regonal PLanning Professor Emerita Elizabeth Deakin; CEE Professor Joan Walker, and CEE Professor Susan Shaheen recently published 
How is the COVID-19 Pandemic Shifting Retail Purchases and Related Travel in the Sacramento Region?
Abstract: A significant portion of the population stayed, and continue to stay, at home due to the COVID-19 pandemic. With more people staying home, online shopping increased along with trips related to pickups and deliveries. To gain a better understanding of the change in retail purchases and related travel, UC Berkeley researchers compared pre-pandemic shopping to pandemic-related shifts in consumer purchases in the greater Sacramento area for nine types of essential and non-essential commodities (e.g., groceries, meals, clothing, paper products, cleaning supplies). In May 2020, the research team resampled 327 respondents that participated in the 2018 Sacramento Area Council of Governments (SACOG) household travel survey. The 2018 SACOG survey collected responses over a rolling six-week period from April to May 2018 and asked residents about their motivations for, attitudes toward, and ease of use of online shopping. They were also were asked about the number of e-commerce purchases made, and the number of deliveries and pickups made from those e-commerce purchases for each commodity type. In addition, respondents also reported changes (less or more) in their behavior from a typical week in January or February 2020 (prior to the COVID-19 pandemic) for: 1) tripmaking, e-commerce purchases, and delivery and pick up frequencies; 2) purchase sizes; 3) distances traveled; and 4) modes used for in-person trips. This brief highlights findings from an analysis on changes in frequency of purchases, deliveries and pickups, and order sizes.
Read the report: https://escholarship.org/uc/item/19r0034f