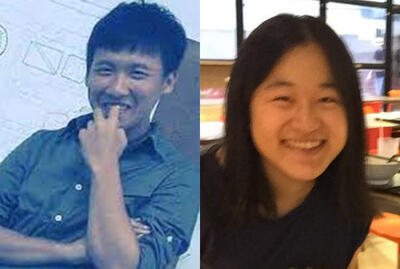 Congratulations to Department of City and Regional Planning doctoral students Cheng-Kai Hsu and Meiqing Li on receiving the Wendy Tao International Smart Cities Fellowship.
"Wendy was a graduate from Berkeley" says ITS Director and City and Regional Planning Professor Daniel Rodriguez. "She is dearly missed by many, and it's so fitting that we can remember her with our great Berkeley students carrying on her passion for smart and sustainable cities." 
Cheng-Kai Hsu's research focuses on micro-mobility, mobile sensing, environmental exposure, and health equity. He earned his BS in Urban Planning at the National Cheng Kung University and his MSC in Transport at the Imperial College London.
Meiqing Li's research explores the intersection of sustainable transportation, travel behavior, and built environment in the United States and Asia. She earned her BA in Urban Studies and Economics at the University of Hong Kong and her MCP at the University of Pennsylvania.

The Wendy Tao International Smart Cities Scholarship supports innovative research projects related to sustainable transport and smart cities that have relevance for California. The scholarship honors Tao's legacy as a business innovator, gifted scholar, and a global leader in sustainable transport and smart cities. The scholarship is open to professionals and graduate students.
Tao tragically passed away in 2022, and in honor of her legacy, ITS California created an International Smart Cities (ISC) Scholarship that is initially being funded through donations from her friends and colleagues. 
Tao received a Master of City Planning degree and Master of Science degree in Transportation Engineering from UC Berkeley in 2007. Upon finishing her graduate studies, she worked tirelessly in advancing sustainable mobility policies and solutions, from being a transportation consultant at Arup and Cambridge Systematics, to heading up Siemens' ITS Mobility Solutions division. Outside of work, Tao dedicated her time to serving on the board of ITS California and presiding over the Institute of Chinese Transportation Professionals Association (SF Bay Area Chapter). In all the roles that she played in transportation, she was known as a collaborative problem solver, supportive colleague and an exemplary leader.