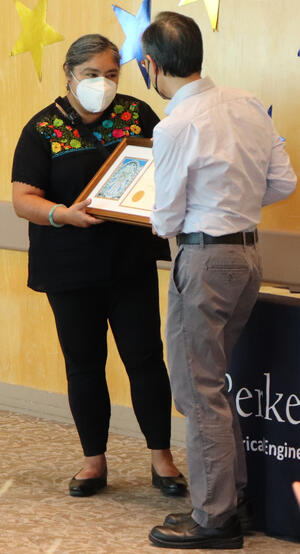 Congratulations to Berkeley DeepDrive/Berkeley Artificial Intelligence Research Administrator Roxana Infante who was recently presented with the Wil Zeilinger Staff Excellence Award for her outstanding work in service to the ParLab, ASPIRE, Berkeley DeepDrive and Berkeley Artificial Intelligence Research labs over the years!
This prestigious award is presented annually to a staff member of the Electrical Engineering and Computer Science department or the Engineering Research Support Organization (ERSO) who exemplifies a spirit of service cheerfully given for the general good.
Infante was surprised with the award at a ceremony Sept. 29, 2022. She was nominated by her fellow staff, supervisors, graduate students, post docs, and professors for the exceptional way she performs her job, going above and beyond her job expectations, her unflagging good spirits and kindness towards others, her selflessness, and the ability to perform impossible tasks.
"I'm so glad we have this opportunity to tell you how much we appreciate you," says her Supervisor Angie Abbatecola. She added that on the way to the event, Infante passed a room with students sitting in a dark and she went over to flip the lights on for them.
"It just exemplifies why we are here today, it is who she is, and she is always going out of her way to help others."
All three of the BDD Co-Directors, Trevor Darrell, Kurt Keutzer, and Ching-Yao Chan, spoke about her contributions to BDD and BAIR of Infante at the event.
Darrell: "Roxana is an invaluable part of BAIR and BDD, I don't know where we would be without her."
Keutzer: "She is a source of endless joy…she's the reason why I change labs, I follow her."
Chan: "My motto is work hard, be humle, and be kind, Roxanna you are the type of person I aspire to be like."
Every year, the EECS/ERSO Team 2 community recognizes and celebrates a staff member who has served with excellence for more than three years and who exemplifies a spirit of service cheerfully given for the general good.
The EECS Wil Zeilinger Staff Excellence Award was established in 1992 to honor the memory of Wil Zeilinger, Cory Hall's first department engineer. Zeilinger oversaw a number of building projects for the expanding department in the 1970-80s, and took the initiative to implement model safety and energy-savings programs. He was known for his fairness, objectivity, and a desire to achieve the best possible outcome — and he always gave his time and energy wherever they were needed most to further the general good.