Pictured right: Laura Melendy, Assistant Director of ITS; Tim Lipman, Co-Director of the Sustainability Transportation Research Center; Professor Mark Hansen, NEXTOR Director; Congressman DeSaulnier; ITS Director Daniel Rodriguez; Professor Joan Walker, Partners for Advanced Transportation Technology; James Fishelson, California PATH executive Director: and Professor Scott Moura, Energy Controls and Applications Lab. Pictured right: Civil and Environmetal Engineering Assistant Professor Maria Laura Delle Monache (left), Director Rodriguez (center) with Congressman Garamendi.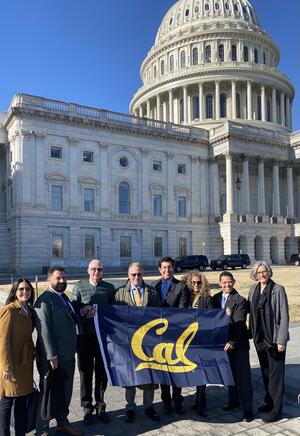 While the Institute of Transportation Studies (ITS) Berkeley was in full force at the National Academies of Science Engineering and Medicine's Transportation Research Board (TRB) Annual Meeting Jan. 8-12, 2023 in Washington DC, several of our faculty and researchers took the opportunity to meet with legislators, staffers, and alumni on Capitol Hill.
ITS Director Daniel Rodriguez, ITS Assistant Director Laura Melendy, Transportation Sustainability Research Center Co-Director Tim Lipman, National Center of Excellence for Aviation Operations Research Director Mark Hansen, Civil and Environmental Engineering (CEE) Professor Joan Walker, CEE Assistant Professor Maria Laura Delle Monache, Partners for Advanced Transportation Technology (PATH) Executive Director James Fishelson, PATH Faculty Director Scott Moura, and UC Berkeley Government Relations Michelle Moskowitz met with Representatives Mark DeSaulnier (D-CA) and John Garamendi (D-CA) and staff from the offices of Representatives Julia Brownley (D-CA), David Valadao (R-CA), Colin Allred (D-TX), Grace F. Napolitano (D-CA), Jay Olbernolte (R-CA), Linda T. Sanchez (D-CA) and US Senator Alex Padilla (D-CA). 
While there, the ITS Berkeley representatives briefed lawmakers on a variety of topics, including California's public-private hydrogen hub consortium Arches H2, the NSF-funded CIRCLES project, SafeTREC, the 2023 reauthorization of the Federal Aviation Administration, decarbonization R&D, electric vehicle infrastructure, aviation biofuels, and equity and transportation.
While in DC, ITS Berkeley strengthened ties with the Cal Alumni Club of Washington, DC by inviting members to the ITS Berkeley TRB Reception at Cuba Libre on Jan. 8, 2023 and hosting an alumni club dinner the following night on Jan. 9,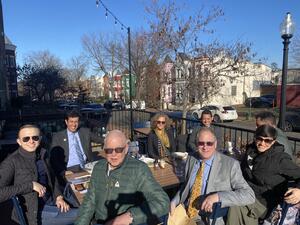 2023 with faculty and researchers.