PRESS RELEASE - August 30, 2010
- FOR IMMEDIATE RELEASE -
UC Berkeley researchers launch high-tech transit study in Bay Area commute hot-spot
By Ann Brody Guy | August 31, 2010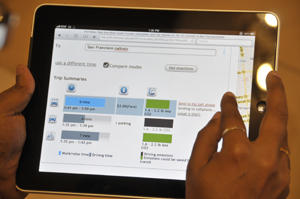 BERKELEY - A new pilot project by transportation researchers at the University of California, Berkeley, seeks to determine whether commuters will use transit more often if they are provided with accessible, current and information-rich transit, parking and traffic options before they start their journeys. The field test takes place along the US 101 corridor between San Jose and San Francisco, one of the busiest commute routes in the Bay Area, and provides a comparison of real-time traffic, bus and Caltrain information for custom-selected routes. (Above: The pre-trip planner compares modes. Photo by Jay Sullivan, PATH)
The pilot, called the Networked Traveler, formally launched today, Tuesday, August 31, with an invitation for the public to use the free online trip planner at www.networkedtraveler.org and/or download the mobile phone application, called PATH2Go. The technology allows travelers between San Francisco and San Jose to select the best commute option based on personalized priorities of cost-efficiency, time-efficiency or a low-carbon footprint. The mobile application is also available in the mobile apps section of www.511.org.
Researchers said that the study's multi-agency cooperation was key to attaining real-time, region-wide data for multiple modes of transportation. "Commuters can compare driving, Caltrain and the bus based on the up-to-the minute status of traffic and transit," said Liping Zhang, the lead developer on the project, which is being conducted at the California Partners for Advanced Transit and Highways (PATH), a research center at the UC Berkeley Institute of Transportation Studies. Zhang said Networked Traveler aggregates information from a variety of sources – including live next-train and next-bus information from Caltrain, SamTrans, San Francisco Municipal Railway (Muni), BART, the Santa Clara Valley Transportation Authority (VTA) 522 bus rapid transit line, and real-time traffic conditions from traffic.com and SpeedInfo. "Smart parking"  – instrumentation that counts and transmits the number of available spots – displays current parking availability at the Millbrae, Redwood City, Menlo Park and Palo Alto Caltrain stations.
Networked Traveler has two main features: a trip planner for multimodal pre-trip planning, and, for people who already know their routes, a menu of transit agencies for quick access to next-bus/next train information. There are also a series of alerts to help transit riders navigate their trips. For driver safety, "geofencing" technology is used to block the cell phone application while a driver is in a moving automobile.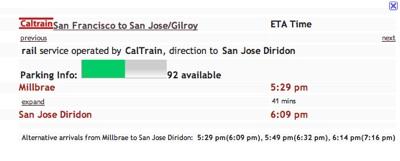 Caltrain arrival and parking info
The trip planner functions much like Google's trip planner, with a simple screen where users enter a starting point and a destination. But the results show comparative routes for different modes of transport, including a color-coding system that enables a quick visual comparison. "Blue shows the time people can spend working or relaxing on transit, and green shows actual CO2-emission savings over driving, Zhang said, noting that the selection of brown to indicate driving was not arbitrary. "Are we sending a message that transit is greener? Absolutely." 
(Above: Clicking on the Caltrain icon on a trip map yields parking availability and next-train information.)
For shorter trips, entering an urban segment into the trip planner will yield a bicycle or walking option with estimated times that users can compare to transit and driving. Zhang concedes that sometimes driving will be the best option – for example, when traffic is clear and a traveler is in a hurry. "The larger goal of the Networked Traveler project is to allow travelers to make informed choices," Zhang said. The comparisons also include cost estimates.
The transit routes menu on both the website and phone application provides live next-bus/next-train information that includes BART, SamTrans, Muni, Caltrain and VTA (route 522 only; researchers expect to expand live VTA data system-wide beginning in the fall).
Commuters who register their GPS-activated smart phones at www.networkedtraveler.org can opt to receive a number of in-transit screen alerts – with audio and vibrate options – telling them where the nearest stop is, and, after they are already in transit,  how many minutes are left on their trip and when their destination is approaching. Zhang said these features were designed to aid regular commuters who may be absorbed in work or music, as well as people with hearing and vision disabilities and those traveling in unfamiliar territory.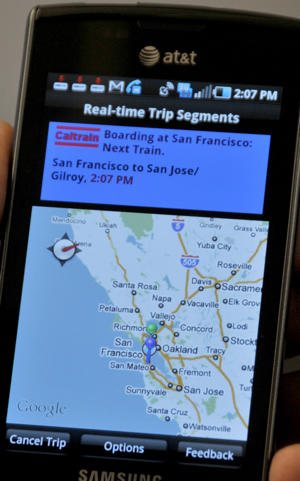 The California Department of Transportation (Caltrans) is sponsoring the pilot with the aim of developing tools that will reduce traffic congestion and alleviate traveler stress. "Prior research performed at PATH shows that informed travelers are likely to be safer and more efficient travelers," said Greg Larson, the Networked Traveler project manager at the Caltrans Division of Research and Innovation. "Broadcasting information about the options travelers have available to them empowers them to decide on the best route, mode and time of travel, which also helps to balance demand across these three dimensions."

Larson added that the Networked Traveler project does provide help for drivers already on the road. Message signs along US 101 display current travel times and available parking at the Caltrain stations. "We are encouraging the public to consider using transit, even after they have begun their trip," Larson said.

Project partners include the Metropolitan Transportation Commission (MTC), San Mateo County Transit District (SamTrans), Caltrain, VTA, NAVTEQ, ParkingCarma and SpeedInfo. (Above: The PATH2Go mobile application gives transit riders real-time information while they are enroute.)

Phones that currently support the Networked Traveler's PATH2Go mobile application include the iPhone, Android, Palm Treo and Treo Pro, LG Incite, Samsung Omnia and Intrepid, and the HTC Touch Fuze, Touch Cruise, Touch Diamond, Tilt 2, Imagio, Pure, Touch Pro. An up-to-date list of supported phones are available on the Mobile Apps page of the Networked Traveler website.

Sign-up is required to receive the PATH2Go mobile application, so that the research team can contact participants for surveys and feedback. The study will not save cell phone numbers or associate the numbers with user names. 

The field test is slated to continue for several months. To learn which information is most likely to influence traveler behavior, researchers will study how and when people use the services and which services people find most helpful. 

Berkeley's Liping Zhang emphasized that the study is testing a hypothesis, not a product. "We will use surveys, evaluations, and website metrics to determine whether high-value comparative information can improve mobility, decrease traveler stress and ultimately, help to decrease congestion on the roadways."

Contact: 
Liping Zhang: 510-665-3660, lpzhang@path.berkeley.edu
Wei-Bin Zhang: 510-665-3515, wbzhang@path.berkeley.edu
Greg Larson, Caltrans: Contact Traci Ruth, Caltrans District 4, 510-286-6120, traci_ruth@dot.ca.gov
High-resolution photos and b-roll available for download:
http://www.path.berkeley.edu/path2go/pressphotos/