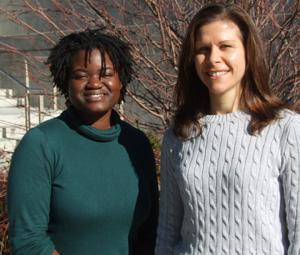 The two grad students who will receive this year's Women's Transportation Seminar scholarships have much in common: Both grew up in Michigan, both have been motivated educationally by witnessing the decline of the city of Detroit, and both are in Ph.D. programs at UC Berkeley.
Tierra Bills (left), who is working on her Ph.D. in transportation engineering, will receive the organization's Leadership Legacy scholarship. Carrie Makarewicz is completing a Ph.D. in city and regional planning with a focus on transportation and community development.  She will be awarded the Helene M. Overly Memorial scholarship. The award ceremony will take place at a cocktail reception in San Francisco on March 3.
Bills' research focuses on transportation equity, and finding better methods for analyzing it when applied to new policies or infrastructure.
"When we make decisions about building a new transit line, or implementing a policy such as congestion pricing, we need to understand how the costs and benefits will be distributed over different sub-groups of people," explained Bills. "The methods for equity analysis currently used in practice are not as informative as they could be," she said.
For her dissertation, Makarewicz is examining how access to work, to schools, to grocery stores, to healthcare, and to other destinations in urban neighborhoods affects low-income parents' ability to be engaged in their children's learning.
"Most transport research is focused on the work commute. But people take four to six trips a day," she said. "If daily trips are long, because of distance or time, how do they affect a parent's ability to spend time with a child? And how does that affect a child's ability to learn?"
The San Francisco Bay Area chapter of WTS makes four awards annually, two to graduate students and two to undergrads. This year the international WTS will hold its annual meeting in San Francisco at the Hyatt Embarcadero from May 18-20.