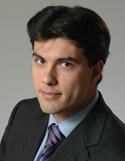 Alexandre Bayen, Associate Professor of Civil and Environmental Engineering and Electrical Engineering and Computer Sciences, has co-authored Viability Theory: New Directions, the second edition of a seminal book first written in 1991 by Jean-Pierre Aubin of the University Paris Dauphine.
The new book, written in collaboration with Aubin and Patrick Saint-Pierre, also from University Paris Dauphine, began as an updated version of the original text but evolved into almost an entirely new book, explained Bayen, a reflection of significant advances in the field in the past two decades as well as new perspectives brought by the additional co-authors.
Viability theory, a mathematical field founded by Aubin several decades ago, designs and develops mathematical methods and algorithms used to investigate the adaptation of systems to constraints.
"For example, viability theory answers questions like, given a set of acceptable driving parameters—maximum speed limits, maximum turning rates of a vehicle—what  are the acceptable sets of inputs to apply to the vehicle to keep it safe?" Bayen explained.
Over the years, applications of viability have spread, spanning biology, economics, environmental sciences, financial markets, control theory, robotics and cognitive sciences.
The 830-page book presents an introduction to applications of viability theory using numerical examples taken from a wide variety of fields over a 20-year period. Several chapters are specifically dedicated to traffic, and summarize a number of new results obtained on the so-called Moskowitz function, a mathematical framework named for Karl Moskowitz, the California Department of Transportation (Caltrans) engineer who invented it.
"The Moskowitz function is a modeling framework which is used to model evolution of cars on a freeway," explained Bayen. The late Gordon Newell showed that it satisfied a Hamilton-Jacobi equation, which was subsequently used by CEE Professor Carlos Daganzo in its variational theory.
Viability theory enables analytical solutions to equations, which make it possible to compute them exactly, without approximation, at a computation cost which is almost zero compared to other techniques, he added.
In practice, Bayen used viability theory for several applications related to the Mobile Millennium project, which utilized GPS-enabled smart phones as vehicle probes to generate real-time traffic information on highways and arterial roadways for researchers, as well as drivers, throughout the Bay Area.
Such applications included detecting malfunctions of the freeway loop detectors, analyzing privacy issues in mobile traffic sensing, and reconstructing traffic flow from GPS phones.
"All of these traffic applications have used viability theory as the mathematical backbone for the work done," he said.
Another practical example utilizing viability theory is a project that includes deployment of a mini submarine and floating sensors to track water currents and gather other data from northern California's Sacramento-San Joaquin Delta.
The research for the book was done in part at UC Berkeley through the CalFrance program, and was co-funded by Caltrans and the French Ministere des Transports.
The book, published by Springer, is available online.