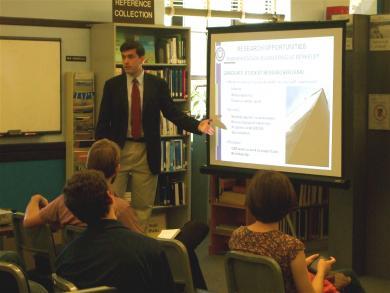 ITS rolled out the welcome wagon for 23 incoming transportation graduate students and a visiting scholar from Chile Tuesday in the Transportation Library.
This year, 10 international students from Canada, China, Italy, Korea, Lebanon, and New Zealand, joined 13 domestic students from six states. Eight are Californians. They are pursuing a variety of degrees, including joint degrees in planning and transportation.
Practical information--from degree program requirements and research opportunities to keys, lockers, office space, library hours, and cookie hour times--was mixed with inspirational and reassuring comments from faculty, staff, and continuing students.
Civil and Environmental Engineering Professor Mark Hansen opened the orientation by welcoming them to what he promised would be an "intense and exciting" year, and urged the "talented group of people…to continue the ITS tradition of helping one another and caring for each other."
Alexandre Bayen, Associate Professor Civil and Environmental Engineering and Electrical Engineering and Computer Science, exhorted them to make use of the opportunities offered by ITS to participate in research projects because they offer an all-important exposure to the world outside academia.
"A lot of what you learn in class is not sufficient for working in the real world. Here you'll learn those additional skill sets," he said.
He also stressed the importance of Berkeley's proximity to Silicon Valley and the explosion of data becoming available. "We're in the middle of a revolution in terms of data when it comes to planning and traffic management. There's incredible richness now. It's an exciting time."