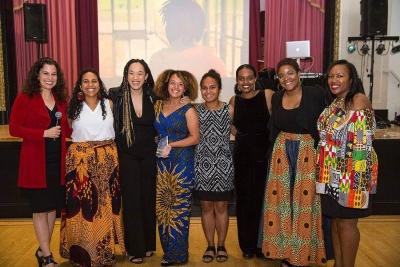 The College of Environmental Design, ITS Berkeley, Low Income/first Generation Students (LIFGen), College of Environmental Design Students of Color (CEDSOC) and planning professor/UCTC Director Karen Trapenberg Frick have all earned the Self-eSTEM STEM Partner Award for their continued work volunteering their time and expertise to mentor young girls of Self-eSTEM.
"We see a lot of untapped potential in the communities we serve, and our goal is to provide resources, tools and examples to fill the current critical shortage of minority young women in STEM professions," says Self-eSTEM Director of Strategic Corporate Development Gervetti Lockett. "Our collaboration with UC Berkeley has been a great experience."
ITS and CED students and recent alumni who have been active with the group include Kamene Dornubari-Ogidi, Jessie Wesley, Letitia Carpenter, Christa Cassidy, Gabriela Picado, Dorry Funaki, Elena Eimert, Stella Yip, and Juanita Ballesteros, as well as Tara Montgomery in Social Welfare.
"It was exciting for us, but also exciting for them, just to talk about mutual passions about math and science," says Wesley, CED master student and LIFGen member. "There was a girl asking about topography, she was seven years old, and she said she loves topography…and I thought, you're going to be my boss!"
They have been helping out with events held on the UC Berkeley campus to create future science, technology, engineering, and mathematics (STEM) leaders and eliminate the critical shortage gap of STEM professionals by building a diverse, inclusive and sustainable workforce pipeline comprised of minority young women and girls with the Self-eSTEM team.
"I don't think there are enough spaces that empower and nurture young girls of color, and I think Self-eSTEM offers opportunities for young girls to see STEM fields as a place where they are needed, wanted and where they have the support network to thrive professionally," Funaki, CED alum and SafeTREC policy analyst, says. "Being around these young girls, has taught me how much young girls and young girls of color need support networks that resemble them."
Trapenberg Frick has served as the strategic partner in bringing student resources groups together to support Self-eSTEM's Conversations in STEM (several panel discussions from a diverse group of female STEM professionals), Bonding Over Brunch (spending time building and creating STEM affirmations for the year with role models), STEM Exploration Camp (exploring STEM opportunities through talks and projects, and enjoying the college campus experience), in addition to inviting colleagues to help support and participate. She also currently serves as on Self-eSTEM's Advisory Board.
Students and Trapenberg Frick were honored at a reception in May at Self-eSTEM's 5th Annual Fundraiser Mixer at the California Ballroom in Oakland.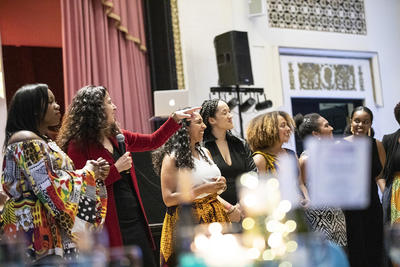 An extension of the program, ITS and CED students and professors continue their commitment to Self-eSTEM and welcomed a nine-year-old Self-eSTEM participant and her grandmother to campus to learn more about coding.
She attended an undergraduate data science class in the planning department, spending time with Graduate Student Instructor Abby Cochran and Professor Karen Chapple, and went to a lab on python, led by Phoenix Alvaro. She enthusiastically took detailed notes in her new Cal notebook and followed along on a lab computer.
"This student and I had crossed paths a bunch at other events, and we always discuss how she wants to be a coder," says Trapenberg Frick. "She was extra focused and so interesting to chat with!"
View a video about the Self-eSTEM program or support the organization.