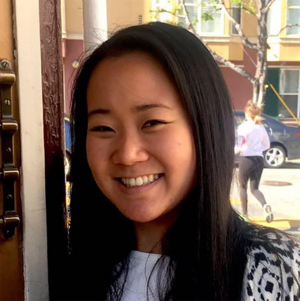 Congratulations to Electrical Engineering and Computer Science (EECS) masters and doctoral student and Berkeley Artificial Intelligence Research Lab researcher Kathy Jang on being selected to receive a National Science Foundation (NSF) Graduate Fellowship.
The NSF Graduate Research Fellowship Program recognizes and supports outstanding graduate students in NSF-supported STEM disciplines who are pursuing research-based master's and doctoral degrees at accredited US institutions. The five-year fellowship includes three years of financial support and a cost of education allowance to the institution. She is advised by ITS Berkeley Director and EECS professor Alexandre Bayen.
"Kathy has shown exemplary work in the projects she has taken on already, and I am so proud she was selected to receive the NSF Graduate Fellowship," says Bayen. "I look forward to seeing where the research resulting from this grant takes her." 
With this fellowship, Jang intends to study the entire pipeline of mixed-autonomy, from algorithmic development to real-world deployment, focusing on reducing energy and fuel costs, providing insight on human driver behavior, and improving traffic congestion.
"Through this research, I hope to push boundaries and achieve the strides in energy consumption and urban congestion that need to happen this century," says Jang. 
This fellowship will allow Jang to continue her work on a multi-year project as part of a consortium spanning multiple campuses (CIRLCES), which aims to understand the energy impact of 100 connected, automated vehicles (CAVs) equipped with intelligent control, ultimately culminating in a real-world road test on an arterial highway in the United States.
Through this group, Jang has been learning about AV control techniques, reinforcement learning, publishing papers; meeting researchers, professors, and fellow graduate students across the nation; and developing her own vision for the future of machine learning-based AV research.
With the support of the NSF, she will be developing the RL control algorithms for the AVs, as well as researching robust policy transfer methods. Her specific goals are: developing efficient RL policies on Los Angeles' I-210 highway, with a focus on increasing velocity and decreasing energy usage of traffic; incorporating robustness into the AV policies, develop a method for numerically scoring the robustness, test robustness via sim-to-sim tests; and testing the impact of the RL policies on traffic and energy usage via a real-world highway road test.