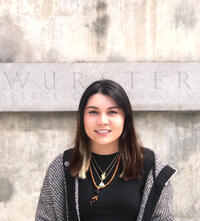 Congratulations to City and Regional Planning master's student Kaitlyn Kong, who recently was awarded the Judith McManus Price Scholarship from the American Planning Association
Kong is in her first year of study for a Master's in City Planning with a strong background in GIS and transportation. Kong's research is focused on Transportation Planning and Equity, Active/Multi-Modal Transportation, Public Transportation, Green and Complete Streets, Streetscape, Sustainable Development, Public Spaces, Green Spaces, Sustainable Cities, and Livability.
The Judith McManus Price Scholarship for Women and Minorities in Planning was established in 2002 through the generosity of her husband and children. Judith Price was an exceptional planner in Texas and New Mexico. The scholarship fund was created to encourage women and minorities to enter the field of planning, and to help planning students who have demonstrated financial need.
"As a woman of color, I am so excited for the opportunity to improve the built environment and achieve a more accessible, equitable, and sustainable future," says Kong.

Kong says receiving this scholarship will allow her to further her research and studies. Previously, she has worked in non-profit spaces, student research internships, and government organizations, centering her work on sustainability and collaboration to improve transportation infrastructure.
At UC Berkeley, she's working to add to these skills with courses in project/data analysis, land use, transportation, and urban planning theories and best practices.