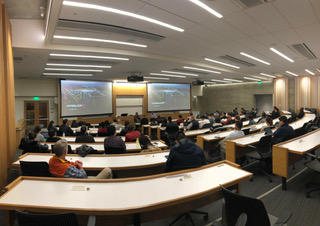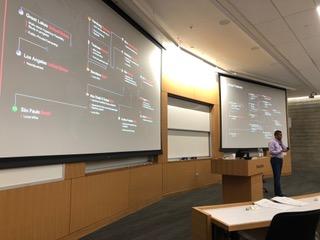 To kick off the Spring semester, UC Berkeley's Haas Transportation and Mobility Club proudly hosted special guest Sanjay Jain, Chief Strategy Officer of Hyperloop Transportation Technologies. 
Jain gave a Hyperloop Presentation and engaged in a fireside chat with Dr Tim Lipman, co-director of UC Berkeley's Transportation Sustainability Research Center based at the Institute of Transportation Studies on Wednesday Jan. 22, 2020 from 6-7.30 p.m. at Chou Hall of the Haas School of Business.
With an enlightening evening revolving around the potential benefits of Hyperloop systems and their real-world challenges, the audience was briming with questions. Moderator Lipman spontaneously decided to shorten the fireside chat and extend the time to the audience Q&A. The talk, chat and questions also touched on sustainability and inspired many in the auience to further explore the global sustainable transportation movement.