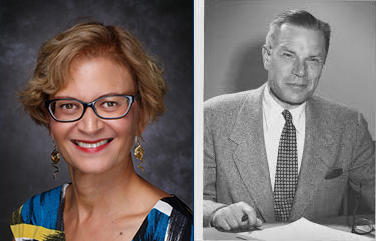 The Civil and Environmental Engineering Academy of Distinguished Alumni recently announced the Class of 2019, which features two illustrious Institute of Transportation Studies alumni: Therese McMillan (MS/MCP '84), Executive Director of the Bay Area Metropolitan Transportation Commission/Association of Bay Area Governments and Professor Harmer E. Davis (MS '30), founding director of what is now the Institute of Transportation Studies. The induction ceremony will be held Oct. 3, 2019.
McMillan was one of the first students to enter the joint master's degree in Civil Engineering Science and Master in City and Regional Planning program at UC Berkeley. Since then, she has been a supporter of Civil and Environmental Engineering and City Planning students, returning to campus on numerous occasions for events, seminars, roundtables, meet and greets, and mentorship opportunities. Currently serving as the Executive Director of the Bay Area Metropolitan Transportation Commission (MTC)/Association of Bay Area Governments, McMillan previously served as the chief planning officer for the Los Angeles County Metropolitan Transportation Authority.
Prior to her experience in LA, McMillan worked for 25 years a member of the MTC staff in the Bay Area, and for more than eight years as MTC's deputy executive director for Policy before her 2009 appointment by then-President Barack Obama to serve as deputy administrator of the Federal Transit Administration in the U.S. Department of Transportation.
McMillan subsequently served as Acting FTA administrator from March 2014 to March 2016 before taking the position as LA Metro's planning chief in April 2016. During the final five years of her original MTC tenure, McMillan also was an instructor of transportation funding and finance in the Transportation Management Graduate program at San Jose State University's Mineta Transportation Institute.
At MTC, one of McMillan's primary goals is to make the Bay Area's transportation and housing opportunities attainable to all people who reside across the Bay Area. She says tackling this challenge will take vision and will also require new and innovative partnerships among Bay Area communities, service providers, and leaders across government and the private sector.
McMillan has served since 2012 as a member of the Advisory Board for the UCLA Lewis Center for Regional Policy Studies, and was named a senior fellow for the 2011-12 academic year at the UCLA Luskin School of Public Affairs.
She received an Alumni Award of Distinction from the U.C. Davis College of Agriculture and Environmental Studies in 2016; a 'Women Moving the Nation' award from the Conference of Minority Transportation Officials in 2013; and a Distinguished Alumna Award from the U.C. Berkeley College of Environmental Design in 2011.
McMillan has long been active in the Women's Transportation Seminar (WTS) and served as president of the San Francisco Chapter in 1989 and 1990. She was named WTS National Woman of the Year for 2016, and as Woman of the Year for the Washington, D.C., Chapter in 2015 and the Los Angeles Chapter in 2011. WTS' San Francisco Bay Area Chapter named McMillan its Member of the Year for 2002 and as its Woman of the Year for 2010.
 
Professor Harmer E. Davis (1905-1998) will be inducted In Memoriam. Davis was an international leader in transportation policy and the founder of the nation's first program combining research and teaching in transportation issues, the Institute of Transportation and Traffic Engineering, later renamed the Institute of Transportation Studies. The model established by Davis in 1947, which includes a close collaboration with the State of California's highway department, has since been followed by many states.
The California legislature asked the University of California to set up an Institute of Transportation and Traffic Engineering to help train the engineers who would be needed as the state upgraded its roads and airports after World War II. Davis, then an associate professor of civil engineering, was picked to help organize the institute.
Davis toured the United States looking at what few programs existed at universities and in state and federal highway departments, then combined these ideas into a pioneering center located on the UC Berkeley campus.
In 1948 he was asked to become its statewide director, and he served in that capacity until his retirement in 1973. During his tenure, institute members conducted significant research on airport runway design and lighting that has had a major impact on how airports are designed and operated today. Other members looked at highway design and traffic control, among other things.
"At the time of his retirement, the national and international stature of Harmer Davis was probably unequaled in the world in the field of transportation," said Vice Chancellor for Research Joseph Cerny at the 1996 dedication ceremony for the Harmer E. Davis Transportation Library in the institute.
The institute has always maintained close ties with the state highway department, now called Caltrans, and in the early years trained many engineers who went on to work for the state. Affiliated transportation centers soon opened at UC Irvine and UC Davis, eventually becoming independent institutes in the 1970s.
As director, Davis participated in many highway, air and urban transport activities, and served as advisor to various legislative and public affairs groups. He had extensive involvement with transportation developments throughout the country, especially with regard to the planning, financing and development of highways and airports.
A member of the National Academy of Engineering, Davis received many honors during his lifetime. Among these were ten awards and medals from the American Society of Civil Engineers. He also was an honorary member of the American Public Works Association and in 1959 chaired the executive committee of the Highway Research Board of the National Research Council.
Davis was born and raised in Rochester, New York, and subsequently obtained his B.S. (1928) and M.S.(1930) in civil engineering from UC Berkeley. He was immediately hired as an assistant professor of civil engineering, and remained on the faculty for 45 years. He served as chair of the civil engineering department from 1955 until 1959.
His own research involved the engineering properties of concrete, asphalt and soils. During World War II, though, he conducted research on the resistance of materials to the impact of shells.
He was also known as an excellent teacher, with a special talent for dealing with students.